Advanced system #8 (4 CANDLES STRATEGY)

Submitted by User on December 23, 2007 - 05:22.
The following strategy was submitted by James Ayetemimowa.
Thank you, James, for your great contribution!
CURRENCY PAIR - GBP/JPY
4 CANDLES STRATEGY
- Draw horizontal lines on the highiest high and the lowest low of the first Four candles of the day.
- Trade the Valid Breakout of the eigther lines.
- Check Stochastic Slow on 4hours Time frame.
- Trade the direction of the 4hours stoch with higher quantity
- Trade direction against 4hours Stoch with lesser Quantity
- Target the first 50-100pips
- Your stop loss should be the other side of the tunnel
- If your stop loss is hit, set the pending order again.
- Close all pending orders by 5 hours to close of the day.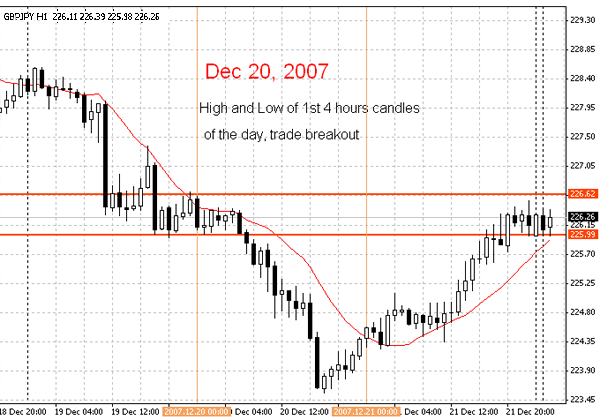 GOLD
- Plot the Pivot first
- Check the relationship between the pivot and the opening price
- Place Stop Buy 200pips above previous day close and Stop Sell 200pips below Previous day close
- Plot the -+200 above and target the next 200pips or next pivot, whichever is lesser
- A day where the opening price is at the middle of a pivot and a middle pivot, please don't trade the -+200 consider NO TRADE or wait for price to hit middle of pivot or pivot then apply -+200 from that point.
- Note and Note, any of such potential trade after you must have made your 200pips, you must always lock profit to 100pips b4 you can let it run.
James Ayetemimowa (femjam78 at yahoo.com)
Edward Revy,
http://forex-strategies-revealed.com/
Copyright © Forex Strategies Revealed