Forex trading strategy #28 (RSI trend - Bollinger dips and rallies)

Submitted by User on January 12, 2010 - 11:18.
NAME: AYETEMIMOWA JAMES FEMI
SITE: www.bondfx.biz
http://bondfx-market.blogspot.com
EMAILS: [email protected]
[email protected]
RSI TREND - BOLLINGER DIPS AND RALLIES
The RSI is a quality indicator for trend. I believe this and i am going to explain another profitable way of combining it with the Bollinger Band for good result.
INDICATORS: Relative Strength Index, Bollinger Band (all default Settings)
TIME FRAME: 4HR AND 30MIN (You could also use 30min and 5min)
Its very simple; apply the bollinger band to all time frames but its needed in 30min timeframe. In the 4hr apply the RSI. When RSI is above 50, its uptrend and below 50 is down trend. Then move to 30min for entries.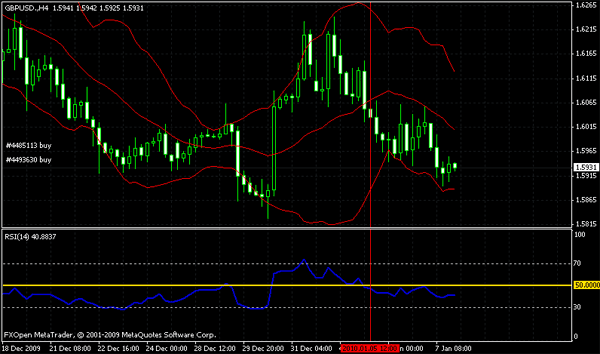 While in the 30min time frame, in an uptrend, wait for price to close below the lower band of the Bollinger, then a close above the lower band will make your entry for LONG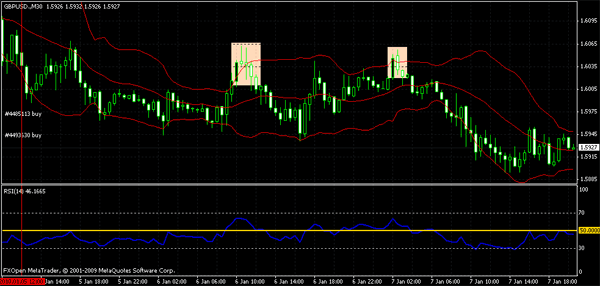 While in the 30min time frame, in a downtrend, wait for price to close above the upper band of the Bollinger, then a close below the upper band will make your entry for SHORT
Enjoy
Edward Revy,
http://forex-strategies-revealed.com/
Copyright © Forex Strategies Revealed