Forex trading strategy #17 (The simplest Forex strategy)

Submitted by User on May 8, 2009 - 10:50.
Submitted by Trader
OK This is a strategy that is as basic as I think is possible. It simply uses the mark 1 eyeball!!!
All you do is open up and currency pair on any timeframe (I suggest Eur/JPY as currently it has a good spread / volatility ratio) and simply look for OBVIOUS changes in the direction of the price!!!
As an additional guide, I include default Bollinger Bands, and it helps if you realise the big actions will generally occur around round levels (.00 and .50). But that is it!!
I have attached a diagram to illustrate my idea!
Basically if you can see an OBVIOUS change taking place - chances are it is !!!
What will occur is you will get a large candle in the opposite direction (THESE WILL BE OBVIOUS - If they are not then they are not a trade!!!)
I have tried this out with my young son and on his first attempt - he got 4 trades correct!!
Exit the trade either if it hits the opposing bollinger band, or again if it is OBVIOUS that the direction has changed!!!)
If you look for modest profits of 10-20pips per trade, if you manage to get successful trades per day you will make some serious profits.
Stop losses will be just below what you consider to be the extreme of the turn I.e. if you have noticed the price falling, then where the peak of the price was +spread will be your stop loss trough of price - spread will be your stop loss on a buy.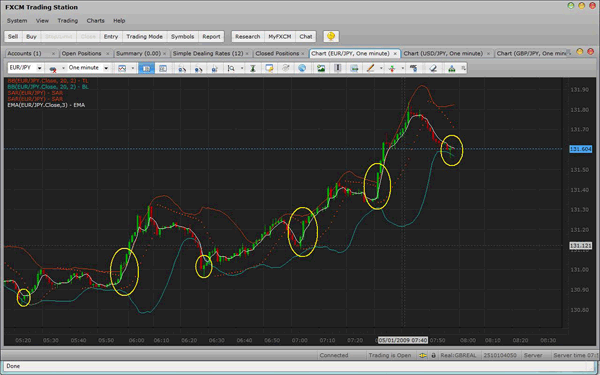 I have spoken to people who have similar success using multiple ema/sma setups, as I am simply following the momentum, but the human brain is quicker to react than ANY indicator!!!
Just take time to observe ANY currency on 1 min chart and you will see exactly what I mean!!! THIS IS NOT ROCKET SCIENCE PEOPLE.
The drawback to this system is that you need to monitor the currency you want until a setup occurs, but on a normal day you should be looking for at least 2 / hour trades, and you will know very quickly whether you are right or wrong!!!
Is it possible to make this system any simpler?????
Edward Revy,
http://forex-strategies-revealed.com/
Copyright © Forex Strategies Revealed