Developing a System #6 (Dachel's Happy Wednesday)

Submitted by Edward Revy on September 17, 2008 - 12:45.
Submitted by Dachel Miqueli
------------------------------------------
Hi everyone!!
I was researching developing this new system which is very interesting and effective. I don't wanna talk too much about it, im just going to show you and then let me know what you think ok??
I called Dachel's Happy Wednesday.
Well.....Here's the deal.
1. Open the 60 min chart GBP/USD
2. Find the first candle of the Wednesday which is 00:00 EST
3. Find the first candle of the Thursday which is 00:00 EST
4. Find the High and Low
5. If the price touch the high is a buy and if touch the low is a sell (no offsets)
6. Stop 50
7. Limit 100
See?? Was easy right?
I tried different combination but this one is the most stable. I will post the results later and some screen shots.
What I can tell you by now is that this system have a winning 50% ratio since 2007 to date. Consider that you have one trade at the week and you still end with more than 1000 pips a year. This system can be better if you help, I've only test it with GBP/USD but I guess It will bring better results with EUR/JPY and GBP/JPY. It only need adjustment in the TP and SP for those pairs due to their volatility.
Well this is my latest work.
REMEMBER: HELP WANTED
Here are the results for 2007 and 2008 so far.
2007
Jan +200
Feb +100
Mar -50
Apr +250
May +50
Jun +170 (I had to close the trade manually at the next Wednesday)
Jul -50
Aug +200
Sep +100
Oct +50
Nov -50
Dic 0
TOTAL: +970 PIPS
2008
Jan +50
Feb +150
Mar +100
Apr +200
May -50
Jun +100
Jul +50
Aug +100
TOTAL: +700 PIPS
As you can see is not enough for someone who is looking a system that profit thousands of pips every month but it work nicely in the long term and if you now how to manage your money you will have profit from it. The best thing is that only 1 trade is required for week so you have enough time for yourself.
Now Some statistics
Max consecutive losses: 4 (happened once in 2007 and in 2008)
Avg consecutive losses:2
Max consecutive wins: 4
aveg consecutive wins: 2
Winning ratio is around 50%
And here are some pics about the graph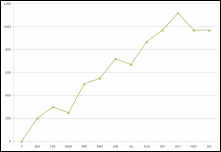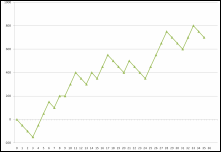 HELP TO IMPROVE IT IS WELCOME
Dachel Miqueli
[email protected]
Edward Revy,
http://forex-strategies-revealed.com/
Copyright © Forex Strategies Revealed