Scalping system #14 (EURUSD scalping with Bollinger Bands)

Submitted by User on April 15, 2010 - 16:05.
Submitted by Hessel
Currency: EUR/USD
Time Frame: 5M, 1M
Before I explain my simple scalping system, I have to thank Chelo who posted ''Scalping system #7''. I love the simplicity of the system, and it seems to work pretty well! However, I was not fully satisfied about the entry-rules and the stop loss. Prices can move up and up and up between BB 50-2 and BB 50-3.
So I thought about tuning the system up a little bit, making the entries more reliable.
To do this, I added RSI 8 (lines on 30 & 70) and Full Stochastics 14,3,3 (lines on 20 & 80)
We now use the following indicators:
Bollinger Bands period 50 deviation 2 (yellow)
Bollinger Bands period 50 deviation 3 (blue)
Bollinger Bands period 50 deviation 4 (red)
RSI 8 (horizontal lines on 30 & 70)
Full Stochastics 14,3,3 (horizontal lines on 20 & 80)
The entry rule stays the same, when price crosses at least half way to the upper blue bollinger band, we sell. Price will retrace to the middle red line (MA50). This is where we take profit! Taking profit a little bit earlier could be wise, because it is not 100% guaranteed that the retracement will move all the way to the MA50. But, ONLY sell when RSI is above 70 and the Full Stochastics (almost) hit the 80 line.
Opposite story for a long entry!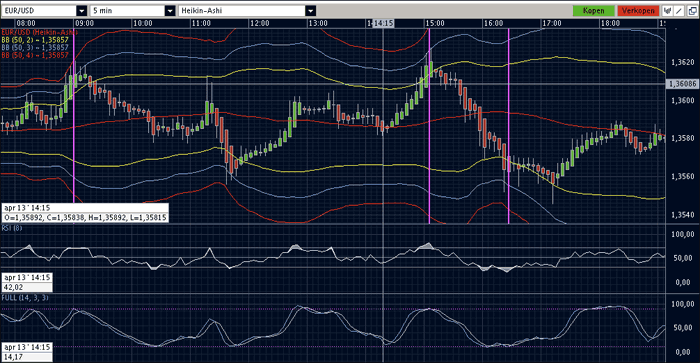 I don't use stop losses with this system, because (especially on 5M time frame) entries are nearly almost a success. When prices go the wrong way, I just double my bet! I take profit when price nearly reaches the MA50 during a retracement. Having patient is very important when using this scalping system!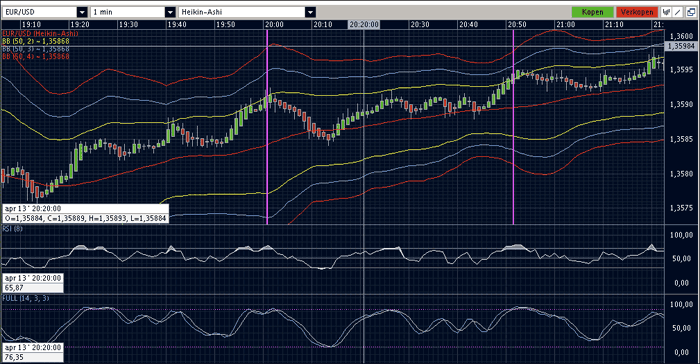 All credits to Chelo! Happy trading!
Edward Revy,
http://forex-strategies-revealed.com/
Copyright © Forex Strategies Revealed