Trading method #2 (Parabolic SAR trading)

Submitted by Edward Revy on March 29, 2009 - 18:48.
If you tried trading with Parabolic SAR for some time, you would notice that quite often, as soon as you enter a trade based on the first Parabolic SAR dot appearance, the market immediately turns against you, making your new trade start with a respectful loss.
Here is what I'm referring to: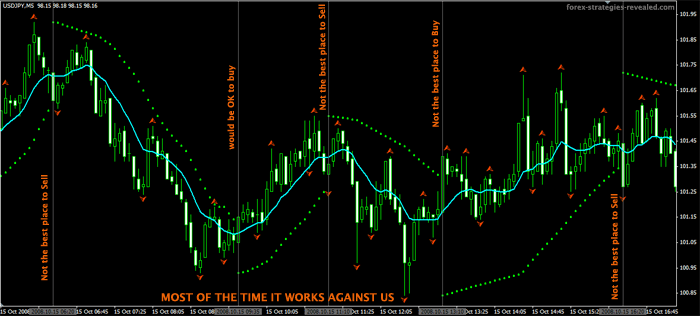 Another example: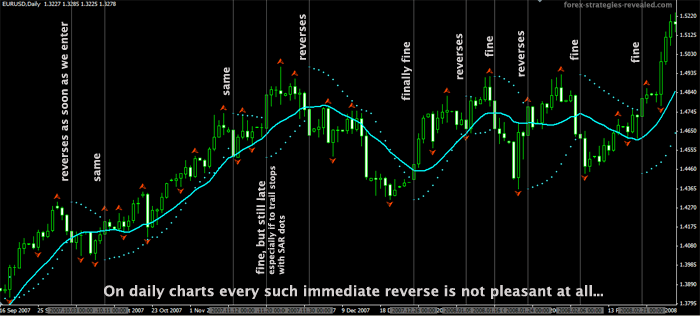 I have noticed that most of the times it is better to refuse Parabolic SAR first invitation and instead wait for a retracement to come. Price retraces about 80-90% of the time, which means that if you rush into a trade with PSAR new dot, 80-90% of the time you'll start your trading on a negative pips territory.
So, here is the question I haven't found the answer for yet:
What is the best way to catch that first retracement I know will come soon after the PSAR dot change?
Here is few raw ideas of mine:
1. Fibonacci retracement. With the first SAR dot, we skip the invitation to enter, instead watch price advancing, topping out (in an uptrend), then starting to descend, at which point we find the most recent swing high and low and draw Fibonacci retracement. The goal is to enter on 0.618 retracement. It is not a holy grail though...
2. There are Fractals and 14 SMA on both of my screenshots. So, what if we again skip the first invitation from Parabolic SAR, instead wait for price to retrace back closer to 14 SMA (or even touch it), as it does so, we go to a smaller time frame, where we will enter after the appropriate Fractal is formed.
As you can see, that's just an idea, but from my observations, it's the one you should remember about if you decide to chase a trade with Parabolic SAR indicator. I'm working on different versions to make things work with Parabolic SAR as it is a great indicator to trade with.
Edward Revy,
http://forex-strategies-revealed.com/
Copyright © Forex Strategies Revealed