Advanced system #18 (Trend lines + WMA swing strategy)

Submitted by User on December 12, 2010 - 18:17.
Submitted by Hessel
Currency: EUR/USD
Time Frame: 3 hours
This (swing) strategy uses trend lines in combination with WMA 21 and WMA 11.
A good knowledge on how to draw trend lines is required for this system to work successfully.
I think this strategy is best explained by some pictures: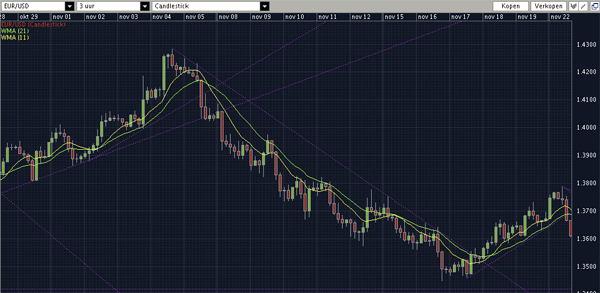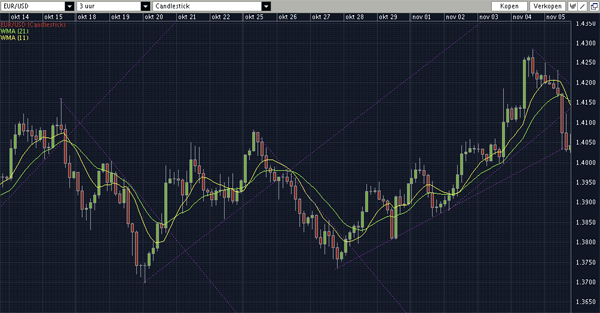 As you see, I connect lows, bottoms in a uptrend and highs, resistances in a downtrend. I prefer trend lines that connect at least 3 lows/highs.
When a trend line is broken, a change in trend is likely to occur. But we only enter the market when the WMA's cross on almost (may take a few candles) the same time as price breaks the trend line.
Patience is very important when using this strategy, waiting for the WMA's to cross prevents traders from trading a false breakout.
When you opened a position, it may occur that price action moves the other way. Don't worry, this is just a pullback, and it will make a lower high or a higher low!
If you don't feel comfortable with this, you can enter the market during this pullback using Fibonacci Retracement. When a trend line is broken, price often moves aggressively in the opposite direction, so a retrace to the 23,6 or 38,2 Fibonacci Retracement would provide a very reliable entry (trend has changed, WMA's crossed, retracement made a higher low or lower high!).
Once again, a picture to make it more clear: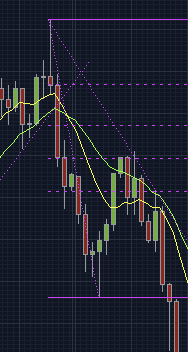 When you're short, exit the market when price makes a higher low, breaks trend line or WMA's cross.
When you're long, exit the market when price makes a lower high, breaks trend line or WMA's cross.
Can't really help you with providing a useful stop loss. I watch the market every 3 hours and simply don't use stop losses. The last high or low would be a good stop loss, but this could easily be 80 pips away!
You could use RSI 18 or 20 to determine when to exit the market too. Help would be welcome here!
Remember, patience is important, wait for the trend line to be broken AND the WMA's to cross. Or, when you want to take less risk, wait for a pullback to 23,6 of 38,2 Fibo Retracement and then enter the market. I like this strategy very much because you don't have to monitor your computer whole day long. I just check my charts once in 3 or 6 hours. This strategy is excellent for swing traders.
Good luck!
Edward Revy,
http://forex-strategies-revealed.com/
Copyright © Forex Strategies Revealed