Forex trading strategy #11 (Arsalan's ADX+EMAs cross system)


Submitted by User on August 24, 2008 - 15:50.
Hello everyone my name is Arsalan and before i proceed i want to thank Edward Revy and all the other people who have shared their amazing trading systems over here.
I have learnt many trading systems at this website which i use in my trading and they work very well for me. I have been using a strategy which gives me consistent profit so i would like to share that strategy with everyone over here.
The strategy is as follows:
Time frame: Daily.
Indicators: 3 DAYS EXPONENTIAL MOVING AVERAGE.
10 DAYS EXPONENTIAL MOVING AVERAGE.
ADX (14)WITH +DI AND -DI.
BUY SETUP : +DI MUST BE ABOVE -DI .
BUY WHEN 3 DAYS EMA CROSSES 10 DAYS EMA FROM DOWNSIDE TO UPSIDE.
SELL SETUP: -DI MUST BE ABOVE +DI
SELL WHEN 3 DAYS EMA CROSSES 10 DAYS EMA FROM UPSIDE TO DOWNSIDE.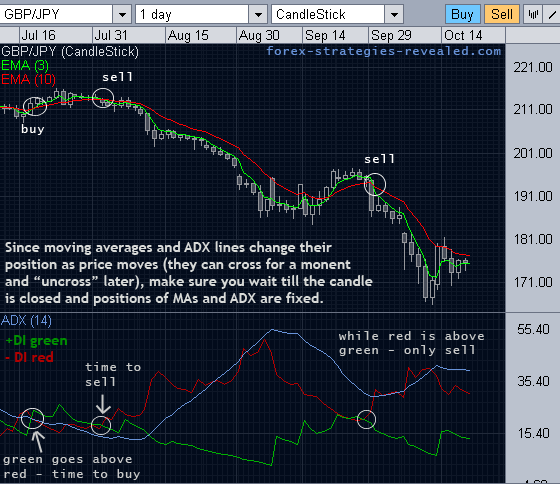 I use this strategy for trading stocks but i hope it will work for forex also because the systems mentioned here for forex trading works well for stock trading that's why i thought my system will work for forex as well. Please paper trade this strategy before you trade with real money.
Once again i want to thank you and please pardon me if i have made any mistake in this article.
Bye
Happy trading
Thanks Arsalan, your feedback and contribution are greatly appreciated!
Happy profitable trading to you as well!
Edward Revy,
http://forex-strategies-revealed.com/
Copyright © Forex Strategies Revealed