Arena - "If you can picture it, you can build it"
Arena is the software for those who have a good understanding of investing and how to build a strategy, but don't want to code or use programs that give you code that must be tested, re-coded and then tested again. We have all been there, you have worked in finance for years now and you have brilliant ideas of putting a strategy together but you are going to either pay a programmer an arm and a leg to code one strategy for you or your going to build it in something that is slow and clunky. It writes out the code for you; you copy and paste it into MT4, it doesn't hit the target in just the right place you go back and adjust etc, etc, etc.
This is the look of Arena: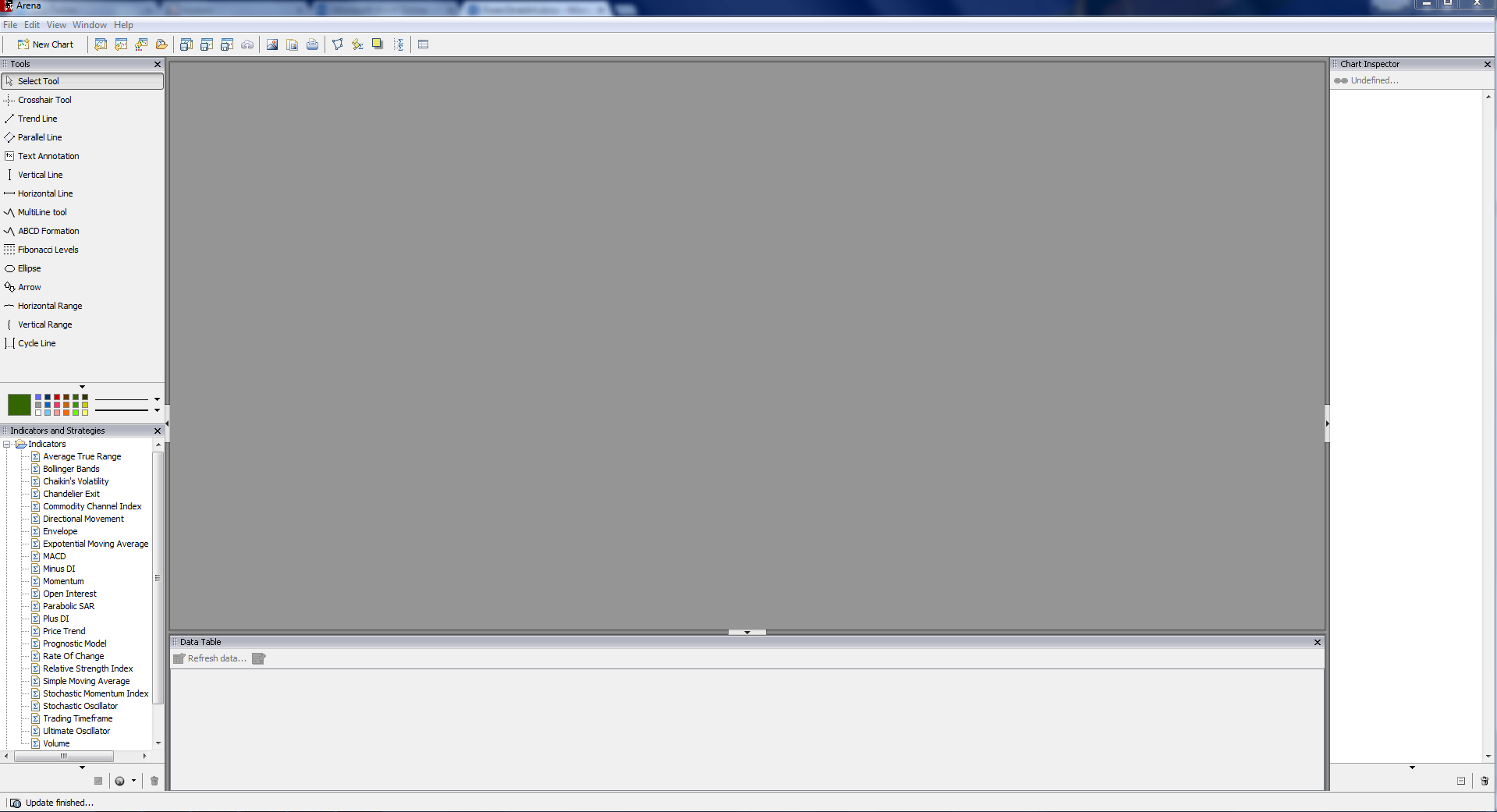 The beauty of Arena is that you see what is happening as you put your strategy together.
This is the main toolbar:
1 2 3 4 5 6 7 8 9 10 11 12 13 14 15 16 17


1. Opens new candle charts and enter your instrument and a candle will appear on the screen
2. "open a workspace" this will open previously saved work space I.e. a strategy that you have been working on.
3. "Import chart" this will allow you to outside candle charts
4. "apply template from chart"
5. "Import strategy" this allows you to import Arena strategies so that you may tweak them to your liking
6. Export Strategy
7. Export Chart
8. Export strategy
9. Save strategy to Exeria
10. Take a snapshot
11. Copy image to clipboard
12. Print Chart
13. Tool palette
14. Script palette
15. Layer Palette
16. Chart inspector
17. Open table data
This is the tool box for creating non standard indicators of one's own concept many of the tools can be registered and therefore calculated into a strategy. Those that can be registered must show some type of movement in time e.g. a horizontal line can be registered whereas a vertical line cannot.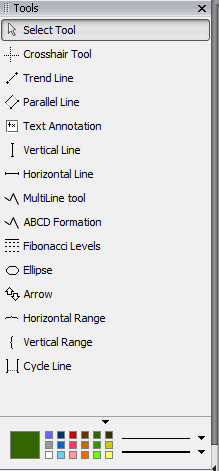 You can see that there is a wide range of simple tools that can be applied to any number of strategies.
The window just below the toolbox is "Indicators and Strategies" and much more in fact as you can see this section also includes functions and tests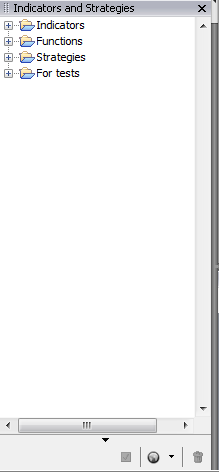 Let's look at indicators first. As you can see the most common indicators are all included on this list.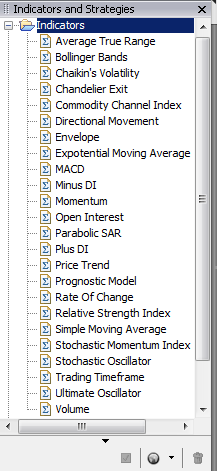 Now for the functions,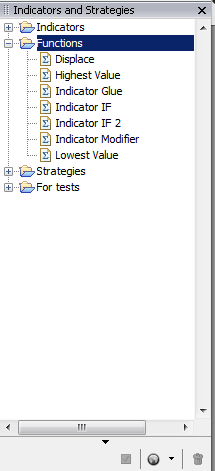 This will help you modify and correlate items from both the toolbox and indicators to hone and fine tune your strategy and to create your own indicator with practically no toil.
In strategies, Arena has put together a large range of commonly use concepts in the trading world. Now, instead of spending hours of your precious time programming, you can drag and drop and fill in the blanks. The title of each automated strategy gives a clear definition of what it does and there are modules that will allow you to join strategies. In addition you can select the best options of two different strategies.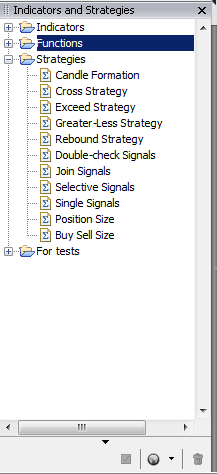 Last but not least, is tests. This is where Arena stand out from all other strategy builders on the market. Before you ever install your strategy into a platform you will see virtual results that would have occurred, through the use of historical data.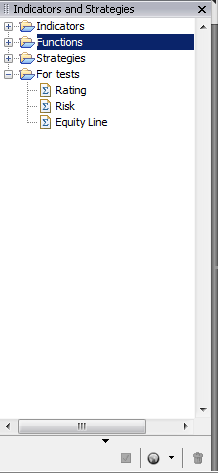 The impressive point of these tests is the equity line, and the public is surely going to appreciate the fact that it can be re-incorporated into a strategy in order to boost profit. You can program your strategy to use the equity line to avoid signals that would open a position during a less than profitable period. https://www.youtube.com/watch?v=4Pbd-8QCO7E
 
Let's build a simple strategy (at least, it is in Exeria) using Bollinger Band and EMA and let's use two different strategies a cross strategy and an exceed strategy. First we will pick our instrument. Let's say the EUR/USD on an hour chart.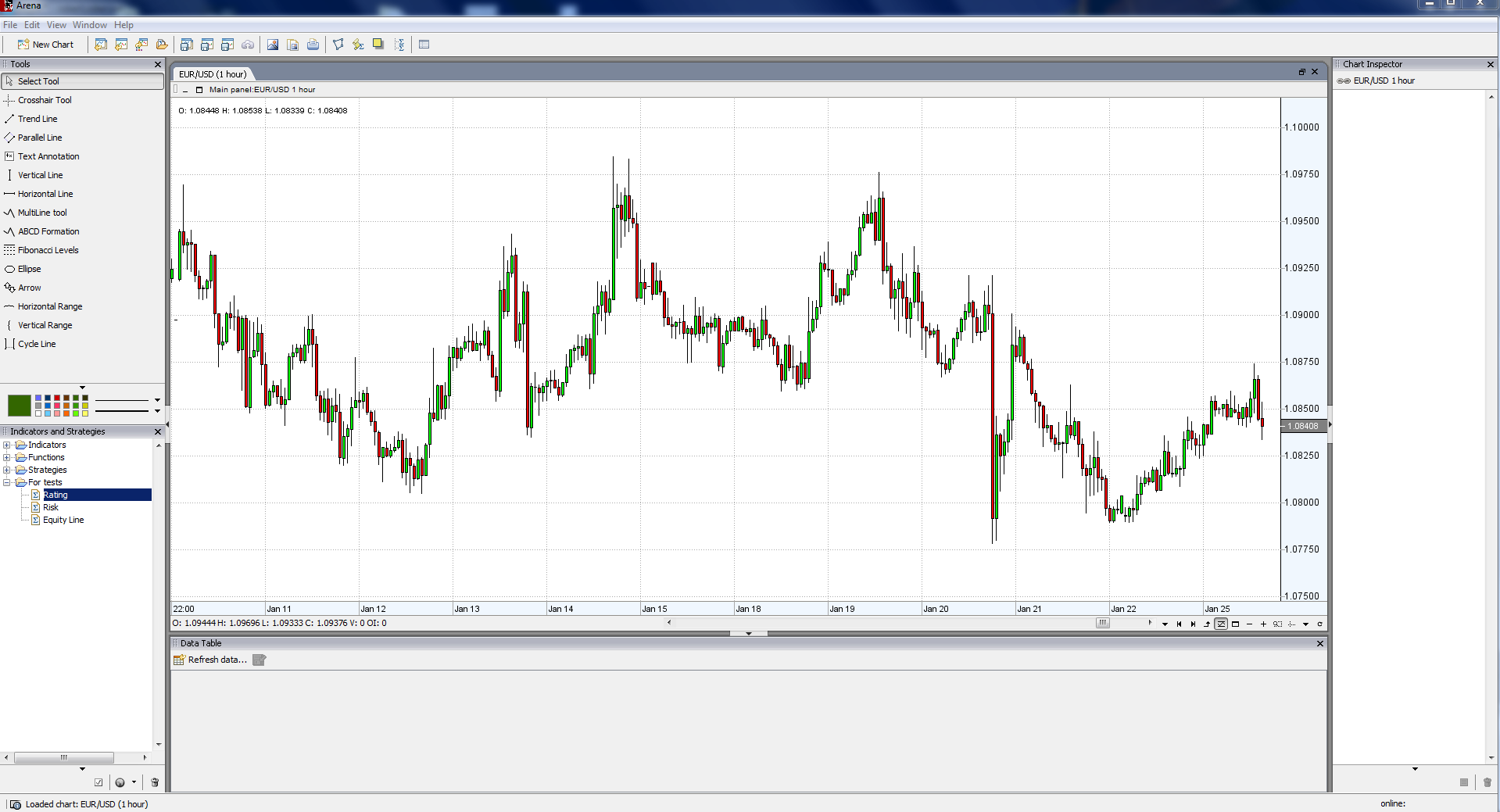 And now let's add Bollinger Bands.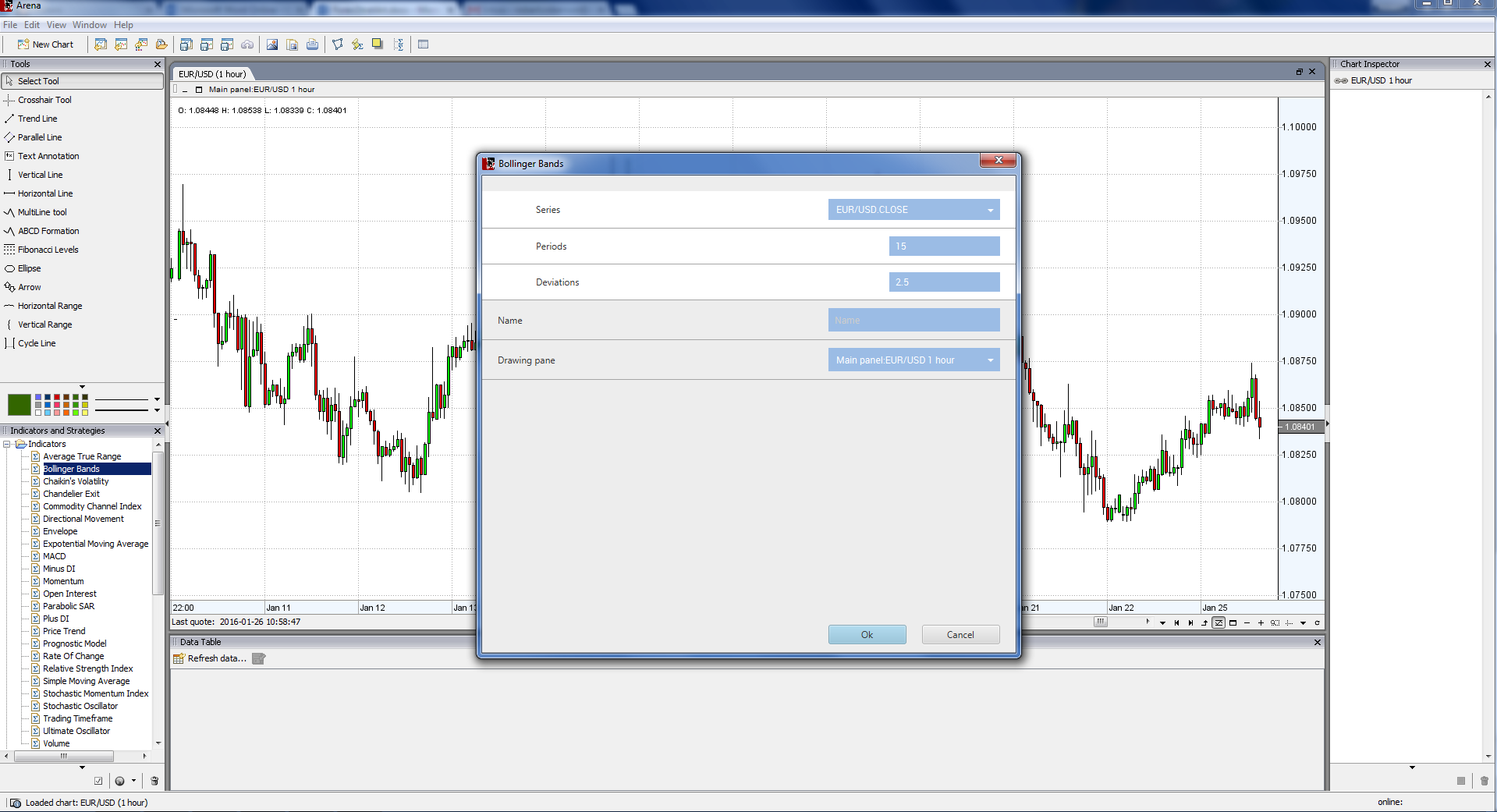 Note that you can adjust the period and deviation of the Bands, by simply typing in the new configuration.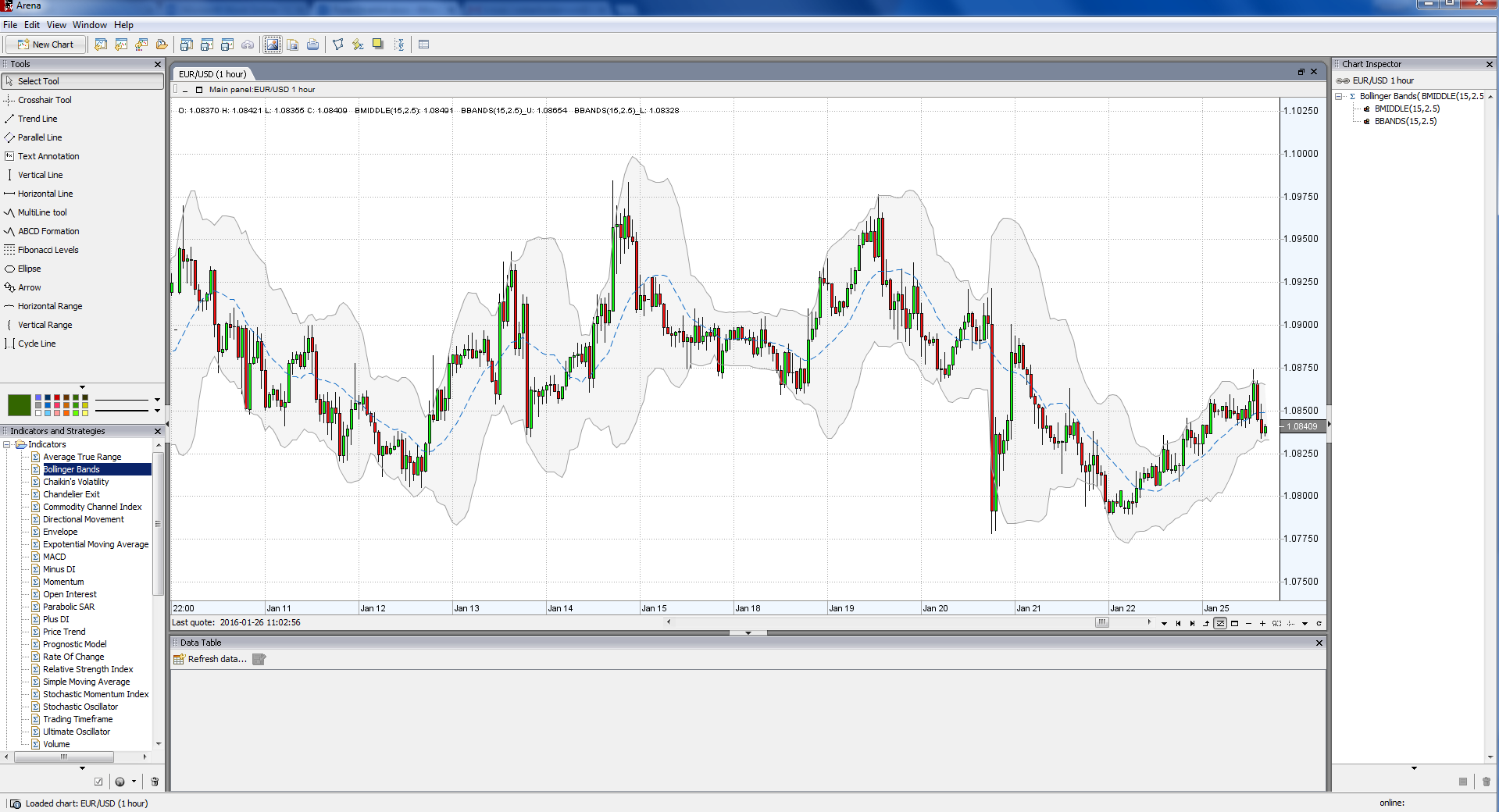 Now, let's add our EMA .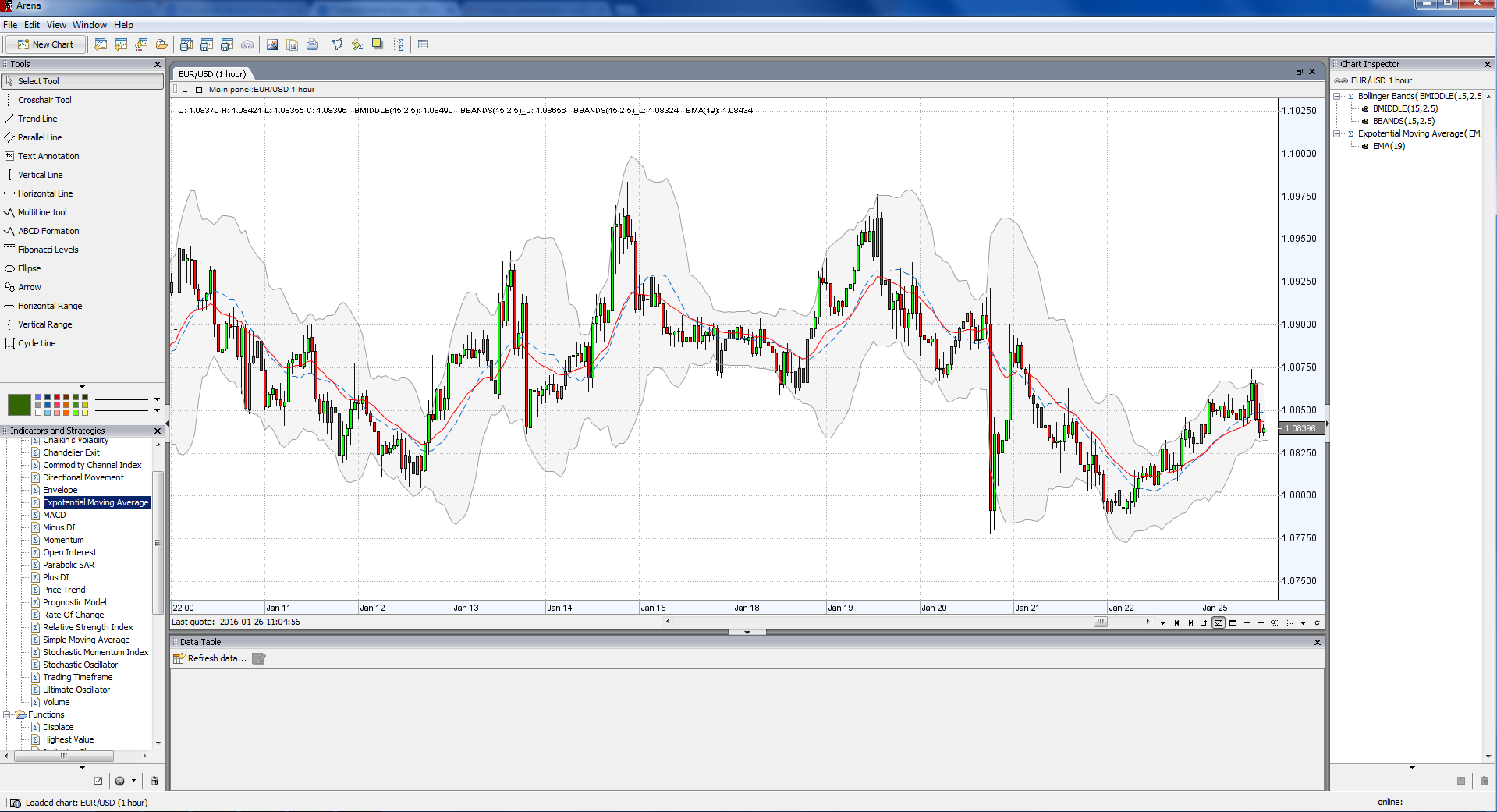 Again, set it to where you like.
Now we are ready to set up our standard strategies. Let's start with the cross strategy using the moving average from the BBands and the EMA.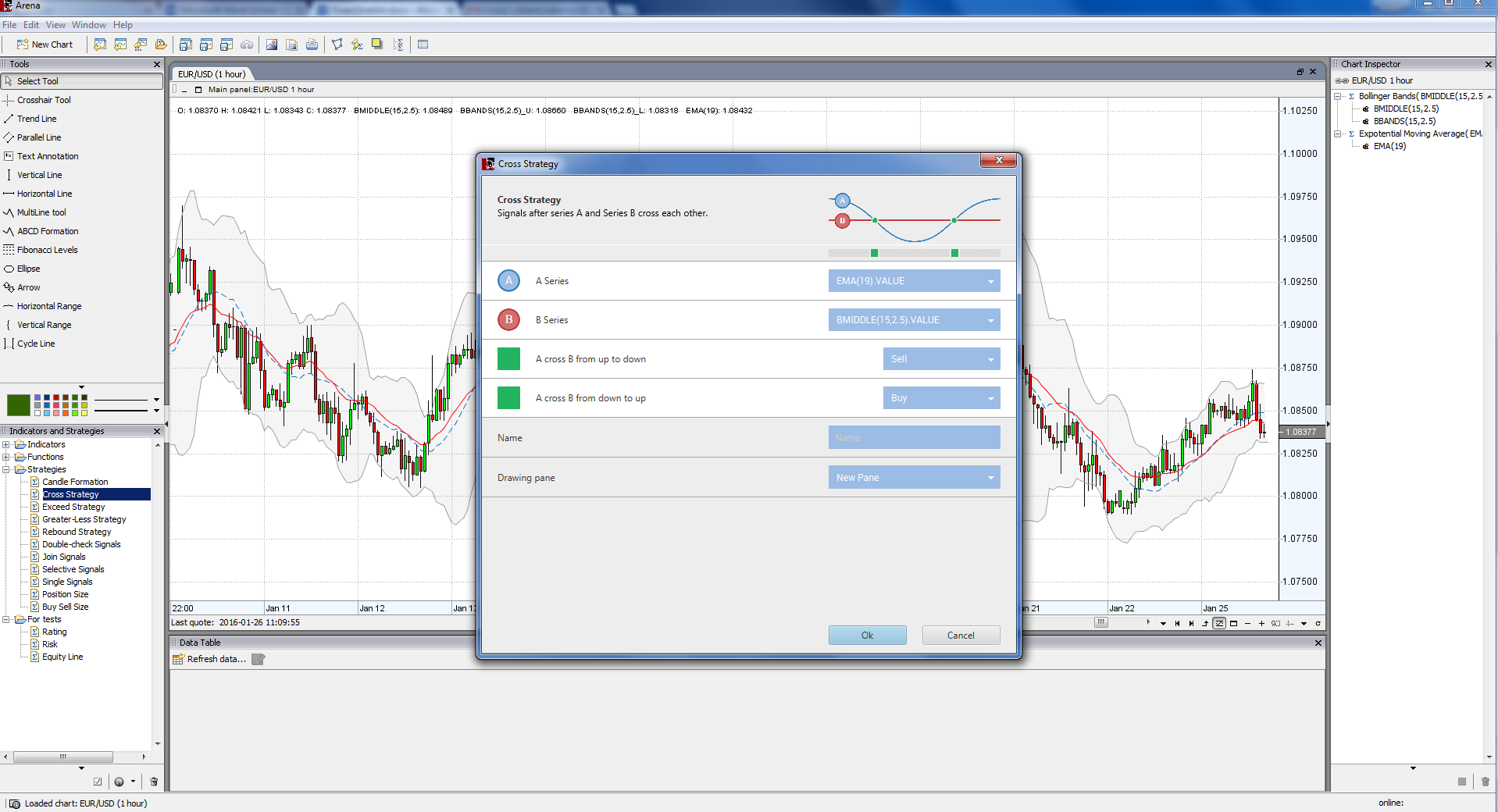 I used my EMA of 19 as my A series and my BBand mid as my B series, once I click OK, I will receive a set of signals but I am going to put them in a new window pane.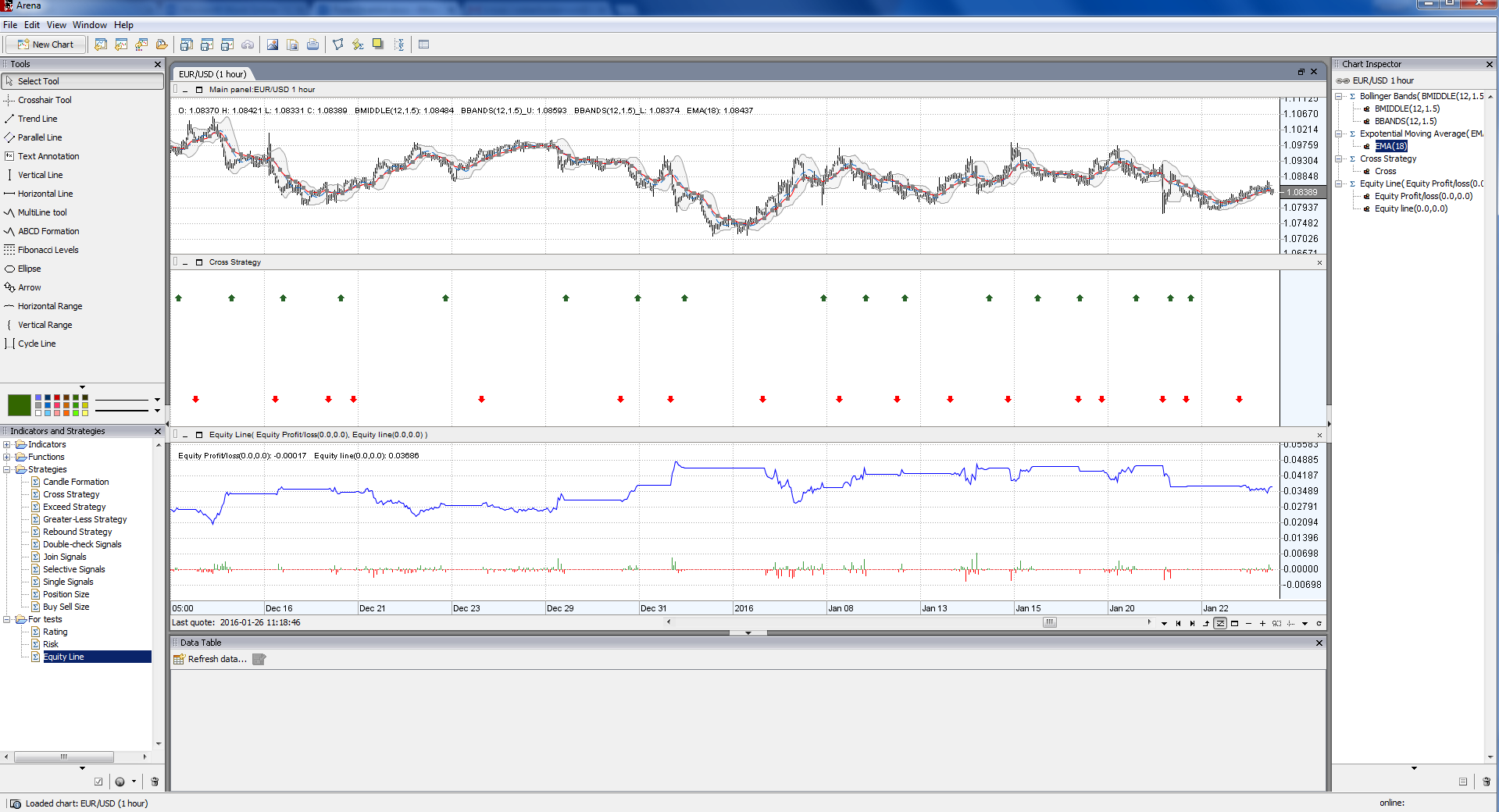 So now, you can see the signals to buy and sell in the middle pane and on the bottom I have included an equity line to show what would have happened with historical data. And as you can see we are well within profit.
Now let's add an exceed strategy.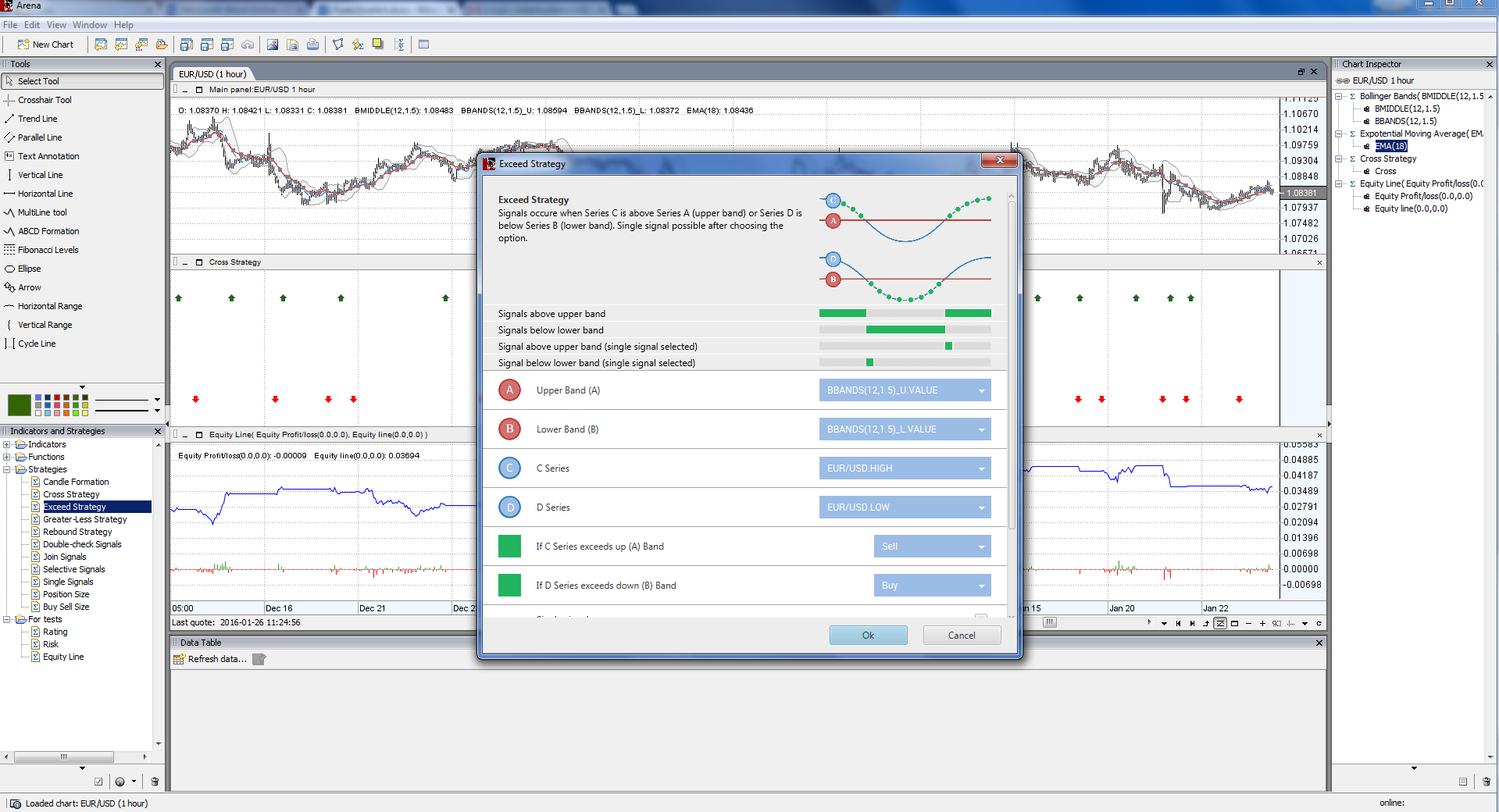 The minute I open this strategy, Bollinger bands were already in place of series A and B because they were the most logical choice. And then in C, I have eurusd high and in D, the low. I am ready to go. I will set it on a new pane too.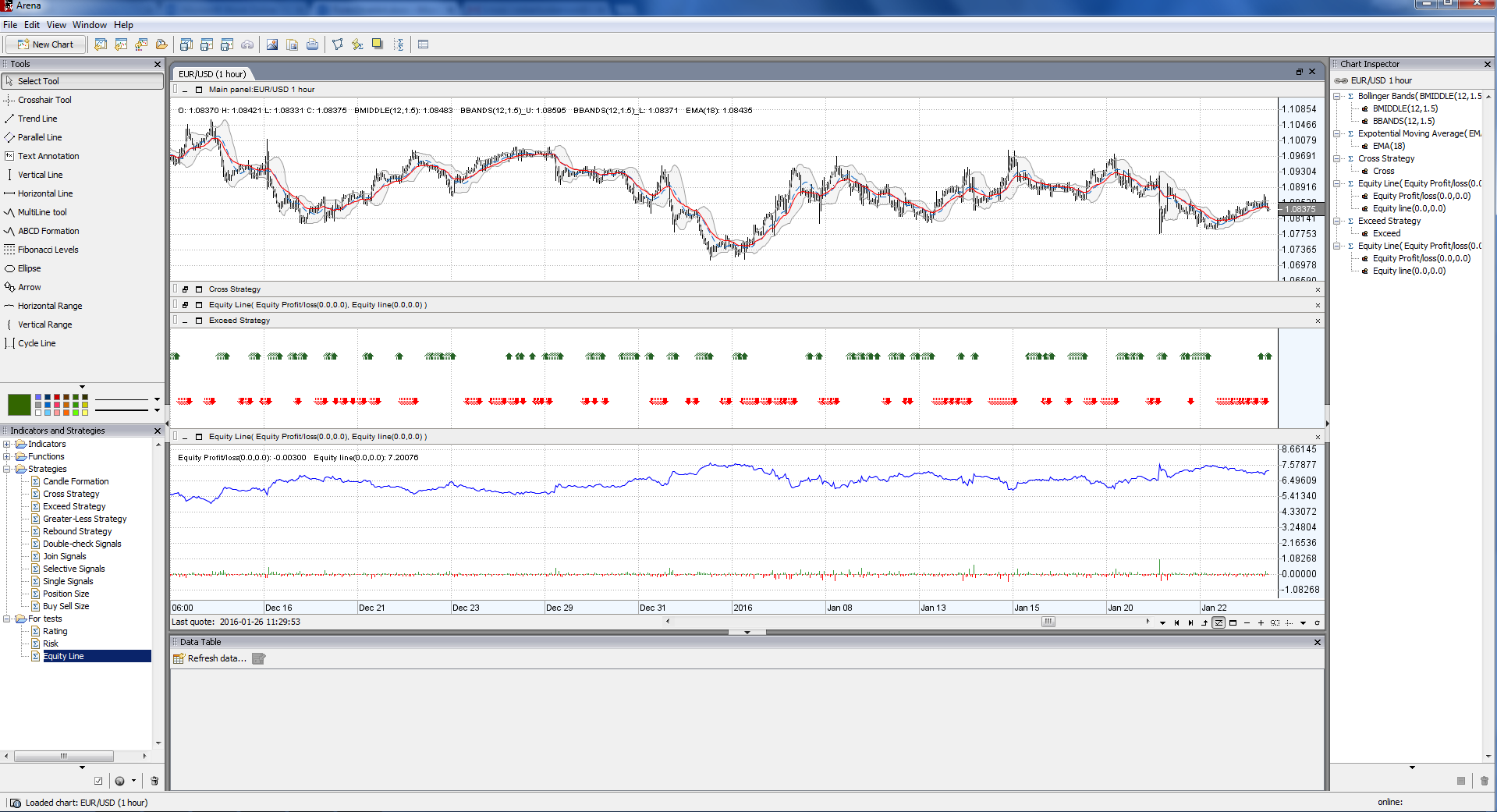 There are the signals and the equity line from our exceed strategy. Now, I am going to combine the two strategies in double check strategy. This will theoretically give us the best signal from the two strategies.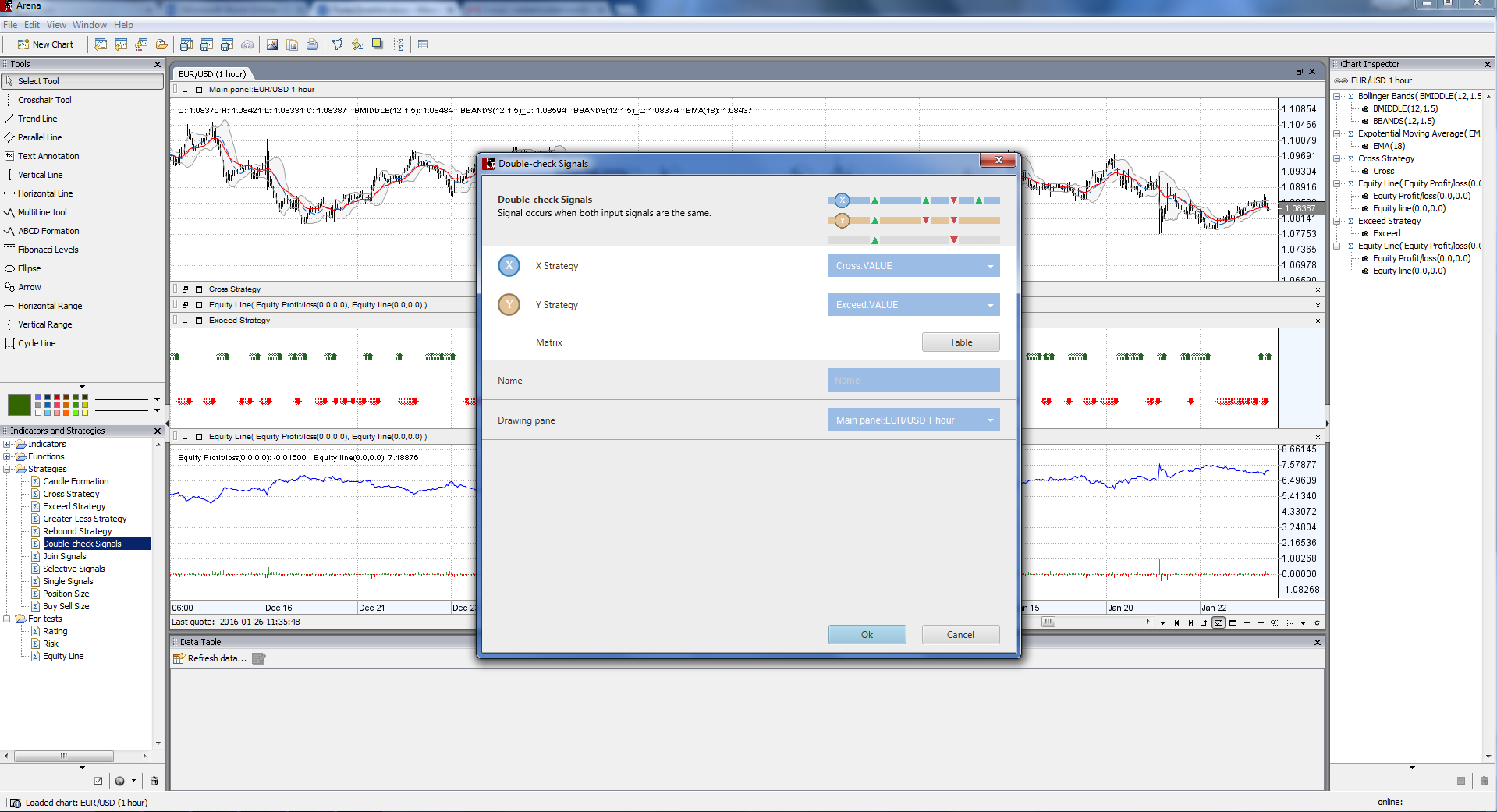 And here is our final product that combines the two strategies into one giving us a relatively secure and profitable strategy.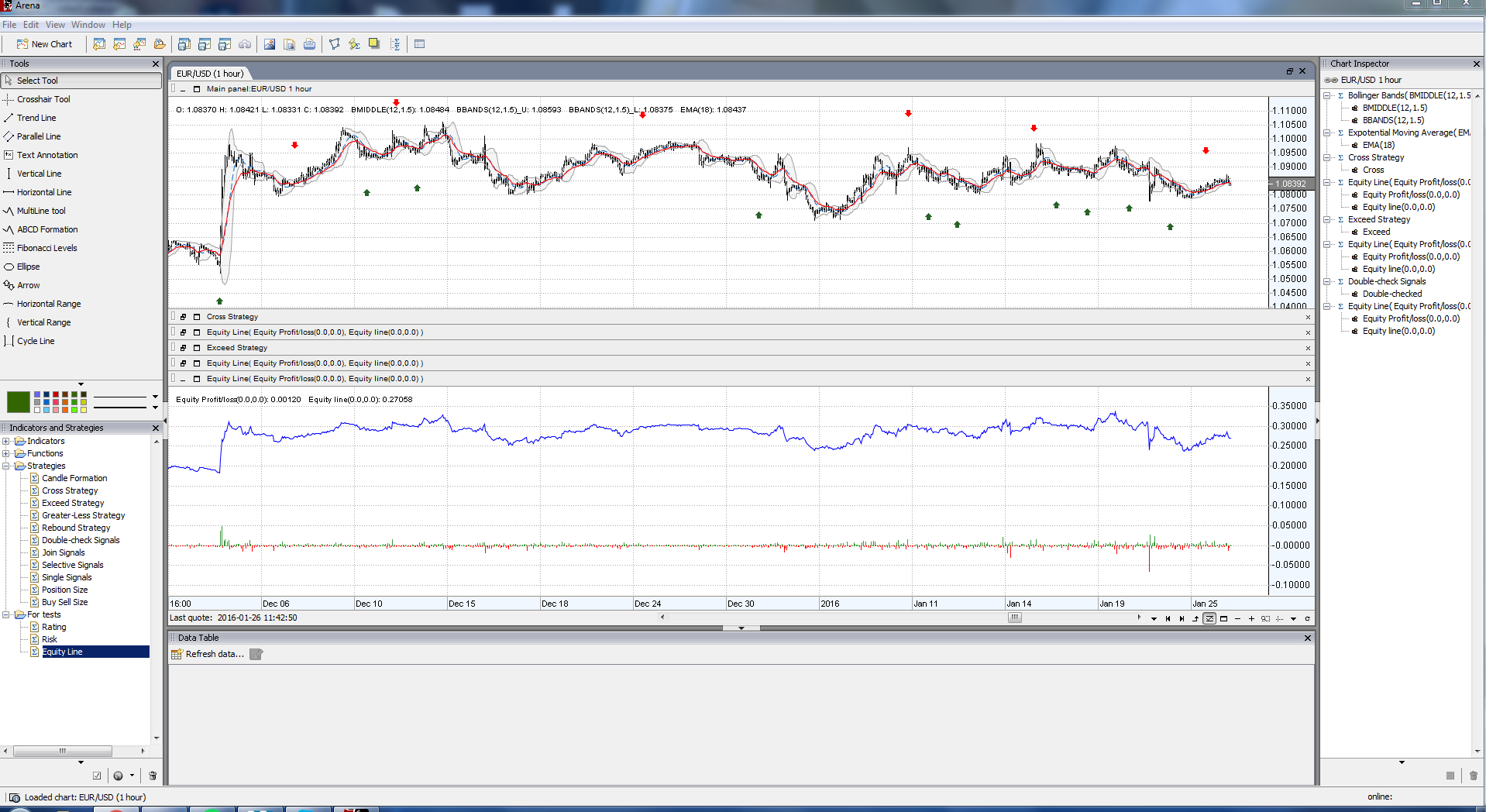 This has really only scratched the surface of what can be done with Arena. There are no limitations. With Arena, if you can picture it, you can build it.
Robert Roberson.