#5 Range-bound trading (Following WellxAMA)

Submitted by Edward Revy on June 29, 2010 - 17:57.
One of the easiest methods to distinguish range-bound conditions from trends is probably by looking at indicators.
I'd like to introduce one those indicators, which attentive readers may have already discovered on our site, called WellxAMA - a custom MT4 indicator.
Download (right click + save as)
Indicator settings: you can use default, which are equally good.
(On the screen shot I used my own settings: 9, 3, 50, 2.0, 2.0)
Time frame: any
Currency: any
Here is the way it may help with detecting Raging and Trending markets: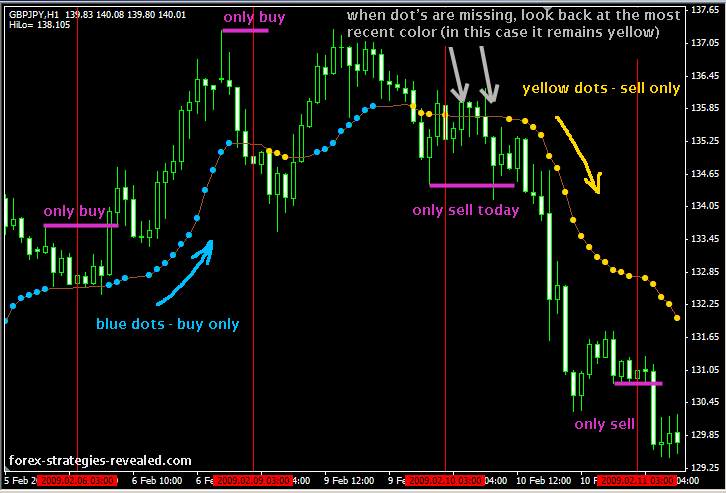 Rules:
1. As long as the dots are of the same color - the current trend continues.
2. Whenever a WellxAMA dot changinges color - the trend changes to the opposite.
3. If WellxAMA draws a new dot with every new chart candlestick - the market is trending.
4. Whenever a dot is missing - it is an indication of a sideways moving market ahead.
(On the screen shot we can see that as an empty/bare thin brown line stretching alongside several candlesticks in a row) - this means a trend is pausing and we may encounter range-bound conditions ahead.
5. What direction to follow when the WellxAMA dots are missing? Stick to the previous trend direction = the previous WellxAMA dot color before the range occurs.
6. If you're in a trade when WellxAMA starts to range, consider tightening your stops. If you haven't started trading - you may want to keep out until the trend is resumed.
Edward Revy,
http://forex-strategies-revealed.com/
Copyright © Forex Strategies Revealed