Scalping system #16 (Sidekick system)


Submitted by User on December 5, 2010 - 07:16.
Submitted by Wolf
Hey Hello! my name is Wolf. I'm from Indonesia.
I love this site, it gives me big development in my trading!
I want to share my "sidekick" strategies. I called Sidekick because usually i use Hourly Time Frame ( I use "Balance simple strategies in this site) but now i want to share my strategies for scalping
Currency : I prefer EUR/USD
Time Frame : 15 minute
What I Use :
Ema 100 (Blue)
Ema 5 (Red)
Ema 20 (Green)
Macd default (12, 26, 9)
The rules.
1. Sell Only when Ema 20 under Ema 100. vice versa.
2. Open sell Only after Ema 5 above EMA 20 and crossing EMA 20 again with confirmation of MACD. Vice versa.
3. Target 8 pips =) (you can get more)
you can see more clearly from the picture.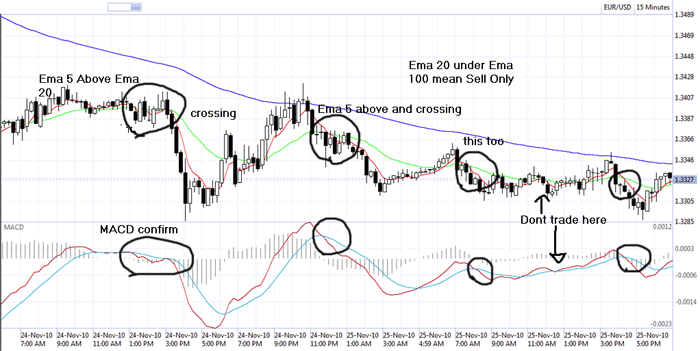 if you want to use Stop loss, Set it 10 pip above EMA 100. (when sell. vice versa)
Happy trading!
- Wolf -
[email protected]


Edward Revy,
http://forex-strategies-revealed.com/
Copyright © Forex Strategies Revealed