Forex trading strategy #7 (Simple breakout System)

Submitted by Edward Revy on June 18, 2007 - 07:12.
The idea behind this simple Forex trading system is to capture an early move of the price when it starts to establish its new direction/trend for the day.
As we know the Frankfurt market opens at 2:00 am EST (which is 7:00 am GMT), then an hour later the other giant - London market opens at 3:00 am EST (which is 8:00 am GMT). The European session is the first major session for each coming day.
So, what do we do?
We start with 1 hour time frame, preferred pair - GBP/USD and no indicators.
The price range we are going to focus on is from 1:00 am EST to 2:00 am EST.
We look for the highest high and the lowest low of the price in that range and simply draw parallel horizontal lines through those extremes that will create a tunnel.
Now we are ready to move to a smaller time frame - 5 minute chart - and watch for the whole 5 min candle to close outside the tunnel which will provide a signal for us to enter with the open of the next candle.
We use a 20 pip stop OR the other side of the tunnel - whichever is less.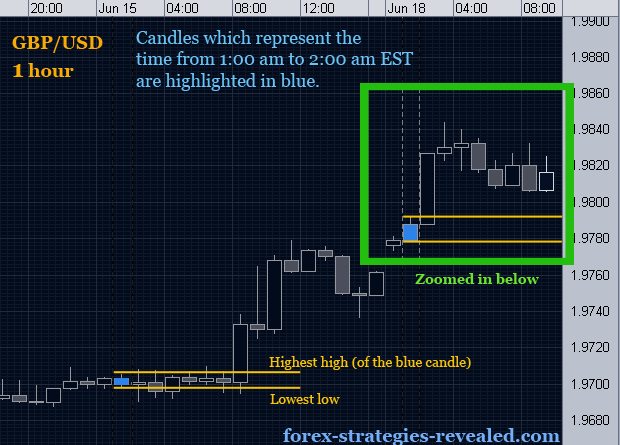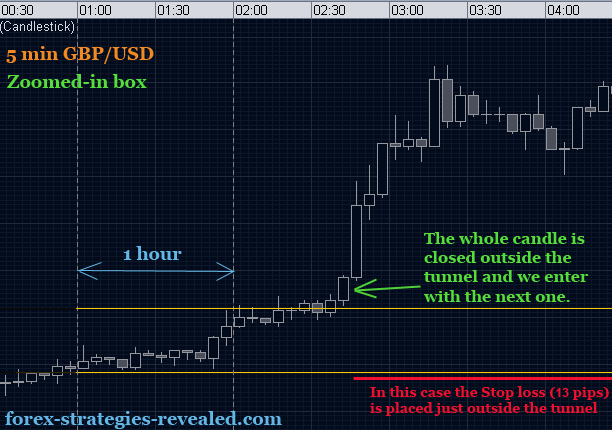 We are aiming at at least 20 pips profit. After that we have several options: lock the profit in, start "chasing" the price with a trailing stop by placing the stop just below the lowest low of the previous 5 min candle, or simply exit within the three consecutive hourly candles from the moment the trading order was filled.
Happy Forex trading!


Edward Revy,
http://forex-strategies-revealed.com/
Copyright © Forex Strategies Revealed