Advanced system #15 (THE SWING 15 min TECH)

Submitted by User on April 11, 2010 - 09:37.
Submitted by Olivier


Traded pair: EUR/USD, GBP/USD, EUR/JPY, GBP/JPY
Time frame: 15 Min
Trading hours: 6.45 am to 5 pm, PARIS time, GMT+1


1 – WHEN TO OPEN A POSITION?
The first work of your trading day will be to draw on each graph and for each pair: resistances, supports and trends lines. First from 4H time frame, then on 1H time frame, and finally on 15 min time frame.
*You have to choose one colour of lines for each timeframe, as you will understand how strong your support, resistance or trend line is when you will be watching on 15 min.
*A trend line will connect minimum 3 points
*This marking takes only 15 minutes, and at 7 am, you will have 4 graphs EUR/USD, GBP/USD, EUR/JPY and GBP/JPY in 15 min time frame.
Now we are ready to trade and we just have to wait for the signal on our screen!
When a 15 min candlestick closes above or under a trend line, support or resistance, we have a signal to go long or short. WE CAN OPEN A POSITION!
Ok great! But how much should I risk or expect on this trade?? Let's look the following
2 – WHAT WILL BE THE SIZE OF THE POSITION?
This is the most important part of this trading technique!
Most of the traders think of how many pips they want to win per trade, per month or per year.
But we will think of how much percentage of our capital we want to win per trade, per month or per year.
A- You should define the maximum percentage of your capital you are ready to risk to open a position. It could be 2, 3, 4,…., 10 %. For example – me, at this moment my maximum risk is 6%. So now you divide this by 2 ( 3% in my case) and you will have your standard risk, let's call it K1. and K2 will be K2=K1*2
B- When you have an entry signal, you have to evaluate your stop 30, 40, 50, …. 100 pips. In general a stop should be above or under the last low or high (depends if you are long or short). Always include the spread in the setting of your stop.
C- For example, if you estimate your stop at 40 pips(spread included, which means that your stop will be at 37 pips if the spread of your broker is 3 pips), and your K1 is 3% , so it means that 40 pips should be equal to 3% of your capital.
D- Why K1 and K2? If you consider each pair separately, after each winning trade, you will trade K2 % of your capital and after each lost trade you will trade with K1 % of your capital
Let's take an example of this to make it more clear:
Your capital is 10 000 eur and you set your risk K1 at 3%, it means that your standard risk is 3% of 10 000 eur : 300 eur and your K2 will 6% so 600 eur,
Now you have a signal on EUR/USD and your previous trade on this pair was a looser, so your risk for this trade will be K1= 3% of your capital, 300 eur
You estimate your STOP at 30 pips and the EUR/USD =1, 36 so you will have to open a position of 136K (account in EUR) and you know that you cannot lose more than 300 eur on this trade.
Now you wonder how much will be your profit? Let's see this in the third part:
3 – WHAT IS MY PROFIT TARGET?
As much as you can!
A- you will set a profit target at the same distance as your stop. Don't forget to include the spread
B- You will sell the half of your position at this profit target, and set a new stop for the second half at your entry point (breakheaven)
C- You will move this stop manually under or above each low or high, following the trend.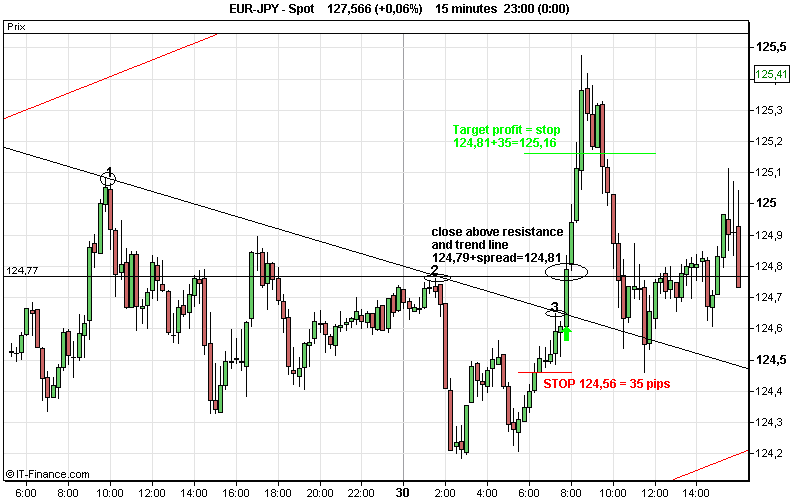 4-TIPS
This technique is very subjective in the sense that, for different traders, support, resistance and trend lines will not be seen at the same place.
Sometimes a signal should not be taken:
- After you set your stop, you see that the profit target is above a strong resistance on a 4H TF or 1H TF, so in this case you should not open a position as your chances that the prices break this resistance are low.
- You should not enter a signal on 'news' as the volatility will be too high
- Don't trade before 7 am or after 5 pm PARIS TIME
- Don't trade on low volatility days
SO THAT'S IT! If you have any questions about it, please, feel free to ask me.
GOOD TRADES!
OLIVIER


Edward Revy,
http://forex-strategies-revealed.com/
Copyright © Forex Strategies Revealed