Advanced system #16 (30 min ATR breakout)

Submitted by Edward Revy on October 25, 2010 - 15:09.
Time frame: 30 min
Currency pair: any.
Indicators:
ATR 14
EMA 14 set on ATR 14.
i-FractalsEx: period 3, max bars (500 or any other number - it doesn't matter here).
Download: i-FractalsEx.ex4
Steps to set EMA14 over ATR 14 properly:
a. put ATR on the charts as usual.
b. from the Navigator window (on your left) drag Moving Average on ATR and in the settings make sure to put:
- period: 14
- MA method: Exponential
- Apply to: Previous Indicator's Data
Trading plan:
The idea:
To take a trade when the market prepares to accelerate.
This happens in a distinctive cycle where slow conditions by the end of the day (end of the New York session, through the Asian session) are changed by a fresh morning session (right after 00:00 EST).
ATR will help us to anticipate and prepare for that exact moment where the market is about to accelerate, while we'll focus on preparing a breakout range to catch the move.
The rules:
When ATR is reading above 14 EMA - the market is active - that's where we want to be trading.
When ATR is resting below 14 EMA - there isn't much activity going on - that's where we don't need trade.
Use Fractals to set a breakout range.
Set a pending order above and below the range when ATR approached the 14 EMA from below and is about to cross (approximate timing here).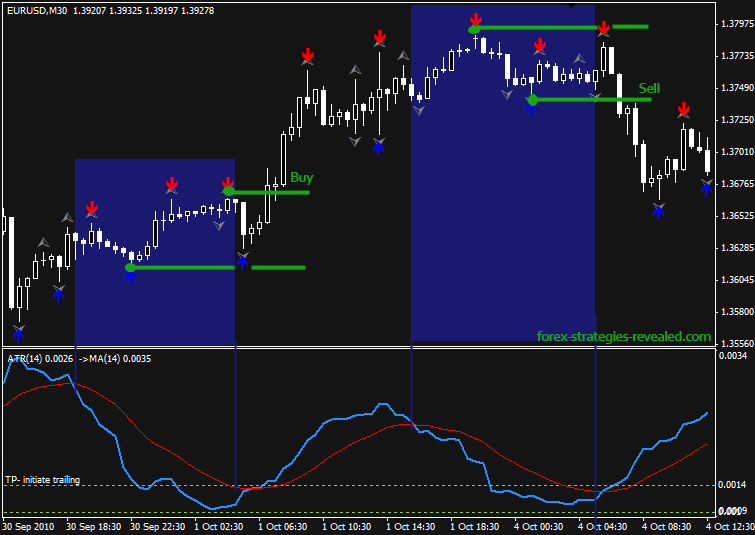 Preparing for the first trade:
- Find the last occurrence where ATR went below 14 EMA.
- use colored fractals from iForexEx indicator to create a breakout range. Use only those colored fractals that fall withing the period where ATR is below 14 EMA.
- if there are several same color fractals found, use the most distant ones - those that will create a wider range.
- when ATR approaches the 14 EMA from below and is about to cross (it's always an approximate timing, rather an anticipation, but you'll learn to identify it quickly after a few days), set pending orders above and below the range. One of them will be triggered on the breakout.
- SL - the opposite side of the range.
- min TP target = the width of the range, after that you can:
a. keep a position as long as ATR is rising and its above 14 EMA.
b. close when ATR goes below 14 EMA.
c. if you took partial TP or have a second order in place, you can keep them running for the rest of the day, even when ATR goes below 14 EMA until ATR falls to 0.0014, after that initiate a trailing stop and let it close with a stop.
That's the strategy. Hope you like it.
Edward Revy,
http://forex-strategies-revealed.com/
Copyright © Forex Strategies Revealed