Advanced system #1-a (Midnight setup addition: Trading Breakouts of the Breakouts)

Submitted by Edward Revy on February 22, 2008 - 10:47.
Current trading method was developed as an addition to original Midnight Setup strategy, but can also be traded alone or in combination with any other Forex strategy.
The idea is to filter out some big portion of false breakouts in our case above/below daily candles.
Setup: daily charts and 5 min charts, no indicators.
Entry rules:
Using rules from Midnight Setup strategy we get ready to enter on the break of the daily candle's high or low.
However, this time instead of placing Buy/Sell stop orders above/below daily candle, we aren't placing any, but rather waiting for actual breakout to occur. Would be a good idea to set an alert signal on a trading platform that will call us when the first breakout is in place.
Immediately after a breakout above/below daily candle on daily charts we go to 5 min charts, where we wait for the price to finish its first advance and start retracing back.
Here comes the idea of Trading Breakouts of the Breakouts:
On 5 min chart we mark the very first extreme level set by the price (highest high or lowest low depending on the breakout direction) and place Buy Stop or Sell Stop orders +10 pips above/below that extreme. This way our order will be triggered only if the price confirms its directional intentions... Otherwise, it was a false breakout.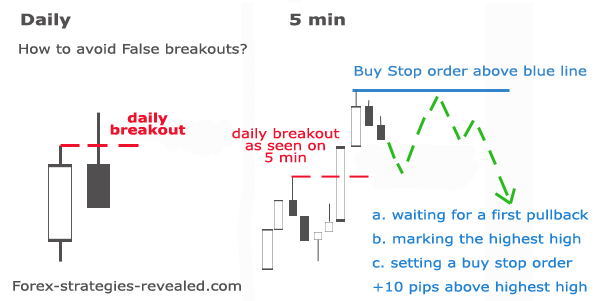 Quite often after the breakout on Daily charts, 5 min charts first extreme point reveals the real nature of the breakout. Price may never reach that extreme again, or it can come and make double top/bottom pattern and back up. Not all but many losing trades can be avoided by Trading Breakouts of the Breakouts.
Along with advantages, there are some not very critical disadvantages of this method:
First of all, we are going to enter a bit later after the initial daily breakout and thus will definitely miss some pips from the starting breakout point.
Second, if the breakout is extremely powerful, our 5 min retracement may never come or come way too late. Chances for that are quite small, usually there is always something to spot on 5 min charts, but exceptions may occur.
Third, you can't set it once in the morning and forget about it for the rest of the day. You need to be there to spot the first 5 min retracement and set appropriate orders.
Happy trading!
Truly yours,
Edward Revy
http://forex-strategies-revealed.com/
Copyright © Forex Strategies Revealed