Money management system #1 (Lucky 7 - trading sequence)

Submitted by User on July 16, 2009 - 17:37.
Submitted by Dachel Miqueli
Ok guys it's been a while since I don't post anything here, that doesn't mean I haven't been working on something. I have a great system to share that fit my personality perfectly so I want to post it here so you can benefit from it. This is not a system designed by me so all the credit goes to FXTraderpro. I just modify it a little to completely fit with me.
Before you read further I have to say that this is a semi-martingale system were you can have control over your losses instead of losing all your capital like any other martingale systems. The winning risk ratio is 1/2.
Here's the deal:
1) We open a trade based upon our Entry criteria. For example, we open a BUY on EURUSD at 1.3500. Our Stop Loss is set to 10 Pips at 1.3490 and our Take Profit is set to 50 Pips at 1.3550. This is called our INITIAL ENTRY in the Sequence.
2) If our Take Profit is hit we then wait for a new Entry Signal and begin again.
3) If our Stop Loss is hit, then our next trade would be a SELL (assuming our first trade was a Buy as above) which we would enter at Market Price as soon as our Stop Loss is triggered. This new Sell position would have the same Take Profit = 50 and Stop Loss = 10 settings as the Initial Entry. This Sequence Of Trades continues each time our Stop Loss is hit, with the resulting trade going in the opposite direction of the previous trade. The Sequence Of Trades is complete whenever a Take Profit is reached.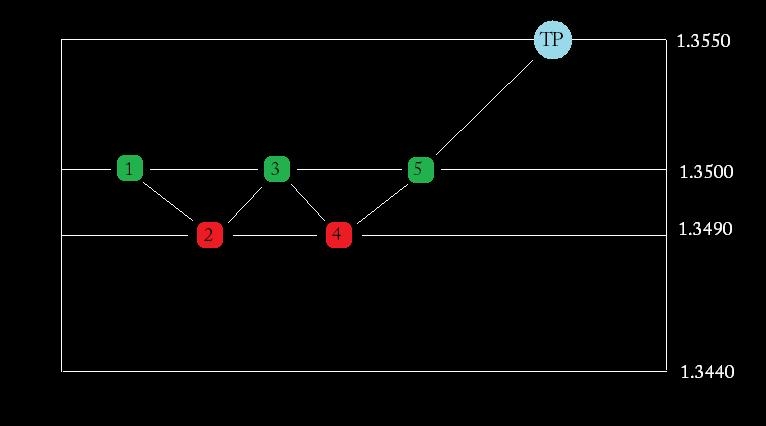 A Sequence Of Trades means that each time our Stop Loss is hit, the next trade would be:
* In the opposite direction
* The Stop Loss and Take Profit settings would remain the same as
our Initial Entry at TP=50 and SL=10 for all trades in the Sequence.
* The amount of lots vary as the account balance grows or decrease.
I have attached an Excel file to calculate the lots amount for the sequence based on the account balance and the % you wanna risk.
If people are interested enough I will detail my own way to entry and exit, you can use yours of course. And some tips for better timing and the best hours to hunt for an entry. I'm trading this system live for a month already and is just getting better.
Have fun and comment.
Dachel Miqueli
[email protected]


Edward Revy,
http://forex-strategies-revealed.com/
Copyright © Forex Strategies Revealed