Exit strategy #9 (Keep every pip)

Submitted by Edward Revy on September 25, 2010 - 19:41.
This is an exit method for those who hate "losing those pips" which come with a great market move and then vanish immediately (or shortly after) on a reverse.
When the price shoots (up or down), it creates an out of the range tall candlestick.
Many traders know about this fact, but the main challenge is that when you look at the charts how do you tell when the candle is tall enough and when not.
The solution came with this interesting indicator that combines similar to Bollinger bands algorithm and Candle Length Volatility.
Download: Val_Bands.mq4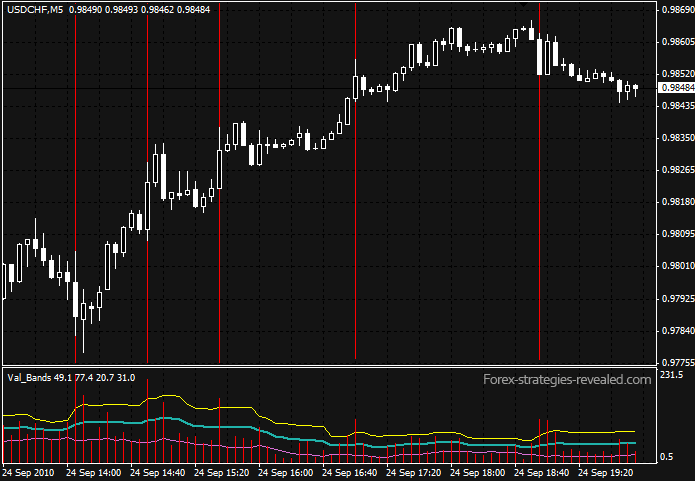 Red histogram: the length of the candle in pips.
Bands: the average of the candle length with standard deviation.
- Yellow band: reading above it suggests that a candle is taller than usual, and it's the time to Take profit. (Also, don't open any new trades there).
- Blue band: reading close to it - an active trend.
- Pink band: reading below it - ranging market. (Crossing the pink line from below - beginning of a trend).
You can use this indicator for exits/TPs on any time frame for any type of trading: from scalping on 1-5 min to position trading on 1-4 hour or daily charts.
The width (deviation) of the bands can be changed to improve sensitivity of the indicator.
Other notes:
1. It is also interesting to look at this indicator in combination with Volume.
2. Another idea would be to combine it with Divergence trading to identify market reversals.
Edward Revy,
http://forex-strategies-revealed.com/
Copyright © Forex Strategies Revealed