#2 Range-bound trading (MACD histogram range)

Submitted by Edward Revy on December 17, 2009 - 17:44.
Another simple way to detect a ranging market is to use MACD histogram.
Remember, that when we look back at historical charts, ranging and trending market periods are very obvious, but when we return to trading in live mode, often there are few clues about the time when the market actually starts ranging.
How a MACD histogram can help?
By simply adding 2 levels – upper and lower horizontal lines above and below 0 on MACD, you'll mark areas most vulnerable to market consolidations.
On the screen shot below I've highlighted the main ranging area the way we'll be able to see it after it was formed (useful for trading breakouts afterwards). BUT, inside that green area I've highlighted zones of MACD histogram trading in between 0.005 and -0.005 values – this is when we will actually be able to detect a ranging market as we trade in real time.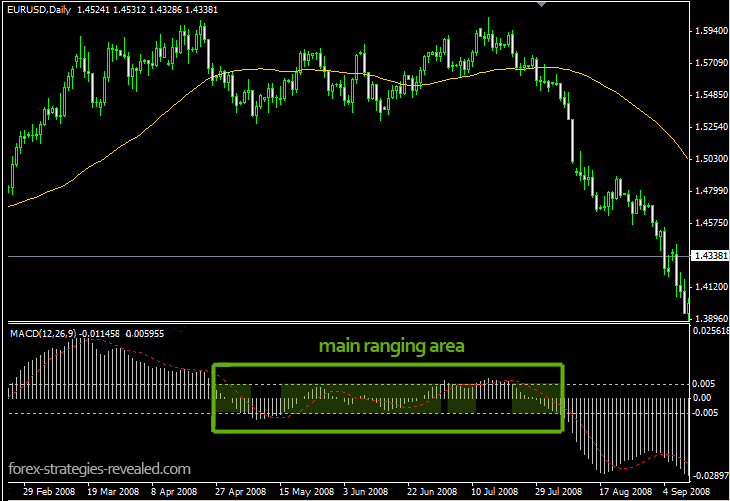 Two things to note:
a. If your platform uses 4 decimal piece quotes, you need 0.05 and -0.05. On the screen shot above I have 5 decimal quotes, so I'm using 0.005 and -0.005.
b. We can adjust/change MACD range-bound area levels to 0.003 and -0.003 or any other value you find most appropriate for your trading, but at the end, one thing remains true – MACD histogram hovering around its zero level suggests an area where we should expect some sideways activity.
Edward Revy,
http://forex-strategies-revealed.com/
Copyright © Forex Strategies Revealed