Scalping system #9 (Trading by Psychological Levels)


Submitted by User on February 6, 2009 - 15:20.
Submitted by Patrick Bourgeois
This is a very powerful winning strategy!!! We only use psychological levels to enter our trades. One of the main rules is NEVER TRADE AGAINST THE H1 CANDLE COLOR. Levels are on the screen every 00, 25, 50, 75, 00.
Another rule is: If H1 and D1 candle color are the same get ready to make more pips. If the colors do not agree be aware that a lot of times you just can grab a few pips (be happy with 5). This is a scalping strategy.
You are not allowed to enter twice in 1 hour. This is to prevent you from overtrading. Remember you only need 2% a day to get rich in the future all the rest is fun but can be greedy.
For MT4 traders i insert my money management rules, the psychological indicator, the 1h candle color overlay and the multi candle color indicator. If you like to trade the 5min chart you can see on the same screen what is going on on the higher tmfs.
Here is a screenshot from the trading method. The above rules are very important to make it succeed so stick to it.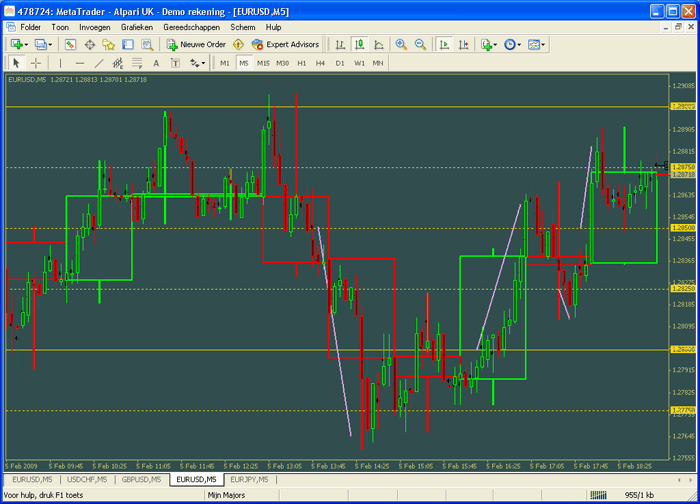 MT4 Indicators:
You'll need two more indicators:
TRO_DRAGON_MONEY_MGMT.mq4
TRO_Multi_Meter_CandleColor.mq4 ,
which you can download at www.kreslik.com.
Edward Revy,
http://forex-strategies-revealed.com/
Copyright © Forex Strategies Revealed