Forex trading strategy #36 (9 & 100 SMA cross)

Submitted by User on June 3, 2010 - 15:15.
Hello Guys,
I just found out a very good strategy based on trend which can grab 100-200 pips per trade. originally I am not the one who create this method but i just want to share with you all because i have some difficulties in exiting the trade and maybe on entering the trades(during ranging) too but hopefully we all can sort it out to filter those false signals.
Pairs
Any..Currently i use GBP/USD
Time frame
30min-1hr and it may be used for scalping
Indicators
9 SMA on close
100 SMA on close
RVI = 100 (relative vigor index) same as Sidus' indicator. (THIS INDICATOR IS NOT NECESSARY I(the author) USE IT FOR MOMENTUM MAINLY)
Method
LONG - When the 9 crosses above the 100 SMA Buy and it helps if the RVI is above 0
SHORT - When the 9 crosses below the 100 SMA Sell and it helps if the RVI is below 0
(EXIT)
Close your position and reverse it when the 9 crosses back or Close the position when the price crosses back over the 9 SMA by 20 pips.
Additions
You may generally have periods when the price may whipsaw 1 or 2 times in a row, but 80-90% of the time when the 9 crosses the 100 you will catch an awesome move.. I trade only the GBP/JPY on the 1 hour (1 to 2 trades a week)
Let's get together and run this system to see how it goes.
Here is an image of the system in play.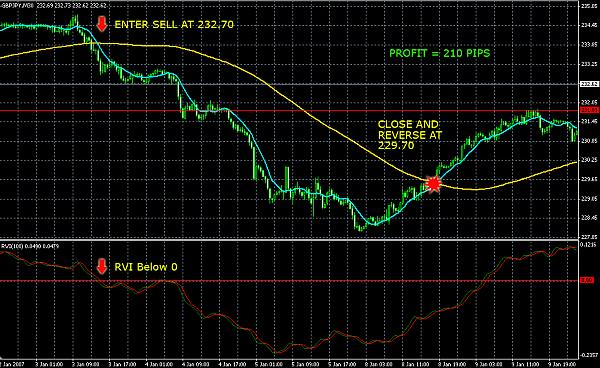 I prefer the 1 HOUR CHART. You don't even need the RVI, but i use it to confirm the momentum(According to the author of this method)
Edward Revy,
http://forex-strategies-revealed.com/
Copyright © Forex Strategies Revealed