forex trading strategy #29 (RSI & Regression line)

Submitted by User on January 14, 2010 - 14:30.
Strategy by Mennzz
Currency: ANY
Time frame: Daily
Indicators: Regression(14), RSI(7)
Details in the photo below.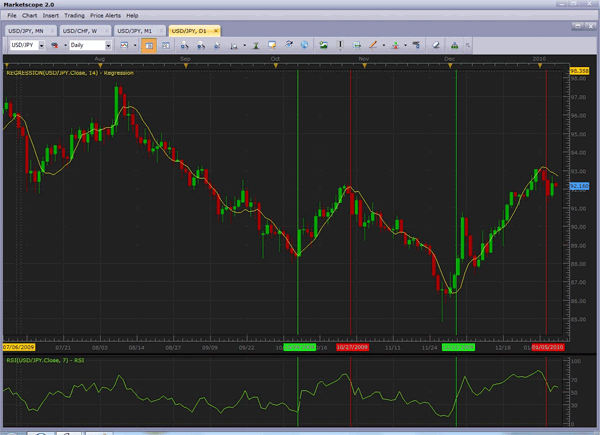 Only take a buy trade when the RSI(7) crosses the 30 line, and the candlesticks cross the Regression(14) line. and the opposite to sell. The Daily chart works best with this layout, and yes, I did take successful trades with this layout.
Not necessarily does the RSI have to cross the 70 or 30 lines to have a good trade, but for the best trades, you should only wait till the RSI crosses.
To tell you the truth, these currencies [USD-JPY - AUD-USD] work best with this layout, although you can use other currencies, and the RSI line sometimes bounces between the 50 line instead of crossing the 30 or 70, which can lead to losses if traded (Example in pic below).
(I should be coming out with 1 more strategy soon!)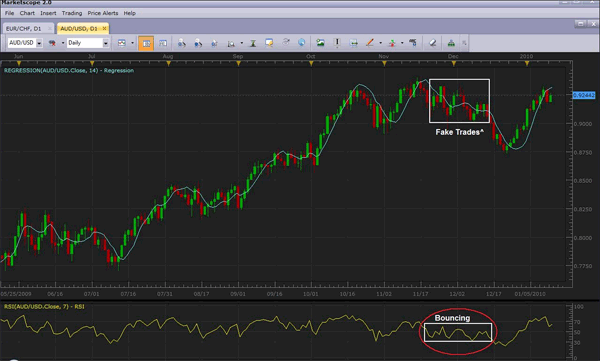 Enjoy.
-Mennzz
Happy Trading!
Edward Revy,
http://forex-strategies-revealed.com/
Copyright © Forex Strategies Revealed