#10 Mounzer Forex Stress Free system

Submitted by User on January 17, 2010 - 16:01.
Forex System by Mohamad Mounzer
Timeframe: Four hours chart
Indicators: EMA(55), EMA(200), Zigzag, Equidistant channel indicator, MSH and MSL indicator
Pairs: Priority to audusd, usdcad, nzdusd, usdjpy and eurusd then the rest..
Note 1: You can use manual channel construction or any indicator satisfies, and we have to use the last equidistant channel available on the chart(ONLY)to keep stress resulting from the traffic lines away.
Note 2: MSH(Market structure high), MSL(Market structure low).
Note 3: entry must be in double lot.
EXPLANATION:
Zigzag indicator shows the resistance and support levels clearly with no need for any horizontal lines drawing and thats better for eyes clairvoyance.
Equidistant channels shows the recent behavior for the price and its borders plays an important role in supporing and resisting.
EMA(55) and EMA(200) plays usually an important role in supporting and resisting on four hours chart.
MSH and MSL are trend reverse patterns where MSH appears during an uptrend when the price candle or bar makes two higher highs(a,b) before making a lower high(c) due to a lack in bullish momentum and MSL appears during a downtrend when price candle or bar makes two lower lows(a,b) before making a higher low(c) due to a lack in bearish momentum.
The system idea pith is that we will wait for a MSL or MSH pattern near these support-resistance levels to enter the market with an entry order (Sellstop or Buystop)
If entry orders (buystop or sellstop) are not triggered and a new low or high appeared this will invalidate them, so delete.
Trades will be entered also if MSH and MSL were not near a support or resistance level but in caution where no support-resistance barrier is in our way and only if the patterns are included in at least 4 candles or bars formation.
Buystop order = high of c+5 pips
Sellstop order = low of c-5 pips
The entry must be in double lots where the stop is below b by 10 pips and target1=stop and target2=stop*2 where stop is moved to breakeven when target1 hit (Use trailing stop).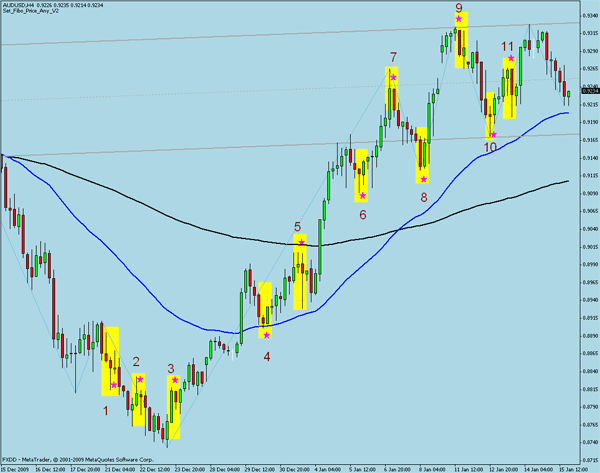 1: MSL is near zigzag peak but order is invalidated as the last low(b) is broken.
2: Invalid pattern as we have MSH according to 2 candles only.
3: Same as 2.
4: Valid MSL on EMA(55).
5: Invalid MSH as EMA(55) is a barrier infront our trade.
6: Valid MSL although we are not near a support area because of a presence of 4 candles and as we have no barrier infront of our trade.
7: Valid MSH for same reasons as 6.
8: Valid MSL for same reasons as 7 and 6.
9: Valid MSH for same reasons as 8,7 and 6.
10: Valid MSL for it is at the lower border of an equidistant channel.
11: Invalid MSH for we have a support barrier infront our trade which is the lower border of the equidistant channel.
12: Valid MSH as it is at resistance level.
Mohamad Mounzer,
South Lebanon, Markaba
Edward Revy,
http://forex-strategies-revealed.com/
Copyright © Forex Strategies Revealed