#2 GANN HiLo Activator MT4

Submitted by Edward Revy on May 6, 2008 - 07:12.
Hello everyone,
Today we will look at GANN HiLo Activator - another custom indicator for Metatrader 4 Platform.
I'll show you the ways to use it.
You may have already noticed that I'm not giving the exact trading rules to trade upon.
That's because I'm discovering and learning about MT4 custom indicators now. Learning in Forex never ends. I saw some good potential in those trading tools that we all may benefit from and improve our trading strategies, so I decided not to postpone it till better times and publish my observations as I move forward.
GANN HiLo Activator in Forex and the ways to use it:
Time frame: any.
This trend following indicator helps finding both: entries and exits. It allows to enter a trade quite early and stay in the trade longer.
If you have a set of rules or a trading system that require some improvement on entries and exits, GANN HiLo Activator could be the right tool.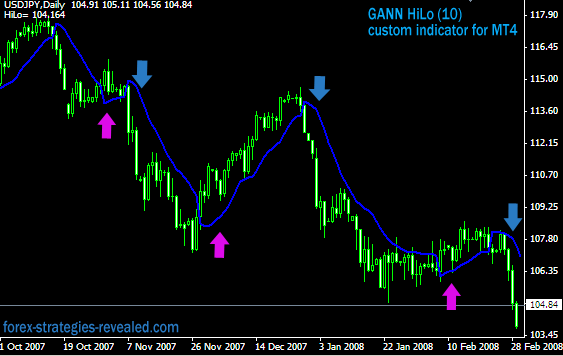 For, example, let's take our existing advanced Forex system #3
By adding GANN HiLo Activator we may now pinpoint more accurate entries.
We can also use this indicator for exits later, while at the same time trailing our stops, for example, with Bbands Stop custom indicator we talked about last time.
GANN HiLo also looks interesting for scalping, all you need is to identify the main trend take either only Buy or Sell signals given by the indicator. For example, we can use 50 EMA to identify the main trend.
Again, these are just great hints. In order to give you a set of rules, I need to make one first and test it properly. So, for now it will look like introduction, while hopefully later and also with a help of other traders I will update it to a good trading system with straight forward rules.
Attachment:
Edward Revy,
http://forex-strategies-revealed.com/
Copyright © Forex Strategies Revealed