#1 Slow Stochastic + BBands Stop MT4 custom indicator

Submitted by Edward Revy on April 27, 2008 - 04:10.
Trading setup
Currency pair: any
Time frame: any
Indicators: Slow Stochastic (5 ,3, 3)
BBands_Stop (also known as TopTrend indicator) default settings (20, 2)
BBands_Stop indicator can be your helping hand in confirming a trend, identifying trend change and setting stops.
Its appearance is pretty much self explanatory.
What should be added is that BBands_Stop if used alone won't be able to save traders from losing in the Forex market. While it performs outstandingly well during good trends, it faces a fiasco during sideways channeling market.
The settings for BBands_Stop indicator could be changed to fit any particular favourite currency pair and a time frame.
When to use Stochastic? It becomes extremely easy to see which Stochastic lines cross can help with entries or re-entries after retracements: if BBands_Stop suggests an Uptrend – we need a Stochastic cross at the bottom. Opposite for downtrend.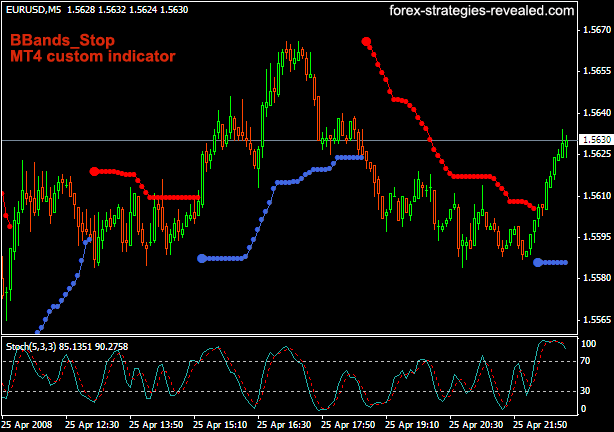 If your previous Forex system lacked additional trend confirmation or a logical level to place your stop at, see how BBands_Stop indicator may improve your Forex trading.


Attachments:
BBands_Stop_v1.zip
TOPTREND.zip


Edward Revy,
http://forex-strategies-revealed.com/
Copyright © Forex Strategies Revealed