#4 Patrick's trading system

Submitted by Edward Revy on June 30, 2008 - 04:53.
Submitted by: Patrick Bourgeois
Thank you, Patrick, your contribution is greatly appreciated!
-----------------------------------------------------------------------------------
I would like to give you my system because i find it a very strong system if you listen to the signals. I have to say it is a combination of a few systems on your website that i have customised to one. Maybe if you like it after a review you can post it on your site.
I use the following indicators.
ema 3 close
ema 5 open
ema 34 en 89 on the close, just using them for direction, possible support and resistance.
RSI 3, 80, 20
stoch 5,3,3
adx 14
I have sound signals on the cross of ema 3 and 5 and the cross +di and -di of adx.
I use metatrader and will sent a screenshot of it including my metatrade indicators.
Click to see full size image.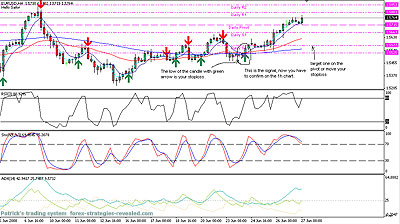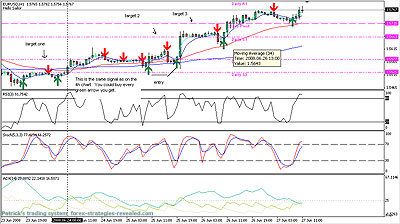 The most important are the trading hours for using stochastic. Stoch don't react the same on Sydney or Tokyo session.
I only use the London and NY session. I combine that with your simple strategy 16, the breakout after 7 or 8h (London)
The most important is the cross of ema 3 and 5. When you get the signal go to 1h chart and watch for the breakout on that chart.
If there is one you buy or sell following the trend at the moment.
Stoploss is the high of the candle on the 4h chart where the signal is.
Stoch is just there to confirm you are not on the end of your trade. The entry point is not stoch nor RSI it is the cross of ema 3 and 5. Mostly RSI and Stoch are already crossed.
I use the 4h chart to start because on the 1h there are sometimes to many false signals. If there is a small signal on the 4h chart you can still make a few pips on the one h. If you get the false signal on the one hour you lose the trade. If you use this system for a while you can make big trades.
Let me know what you think of it.
Friendly greetings
Patrick Bourgeois
Attachments:
adx[1].lucki.mq4
AutoPivotIndicator_ver5.mq4
EMA_Crossover_Signal.mq4
Edward Revy,
http://forex-strategies-revealed.com/
Copyright © Forex Strategies Revealed