Forex trading strategy #40 (MACD + Fast Stochastic)

Submitted by User on August 30, 2010 - 01:02.
Submitted by chrisforextrader
Simple Strategy. Using Slow MACD & Fast Stochastic.
Setup:
Timeframe: Any
Currency:Any
Market Action: EMA21 + EMA55
Price Action: EMA5 + SMA8
MACD: 21 55 8
Stochastic: 8 3 5
This strategy is very simple and successful but will not get you in at the beginning of the move or exit at the end but will give a high success rate.
When the MACD Line and Signal Line cross, wait for the Stochastic to cross in the same direction!! (Don`t trade if Stochastic in overbought/oversold zones)If you are an agressive trader you can enter when the MACD and Stochastic cross at the same time, otherwise once the MACD has crossed, wait for the Stochastic to cross before entering. (The MACD must cross first!!)
Exit the trade when either the price action is clearly showing a change in direction (Long - Lower Highs) - (Short - Higher Lows) or the MACD lines cross back.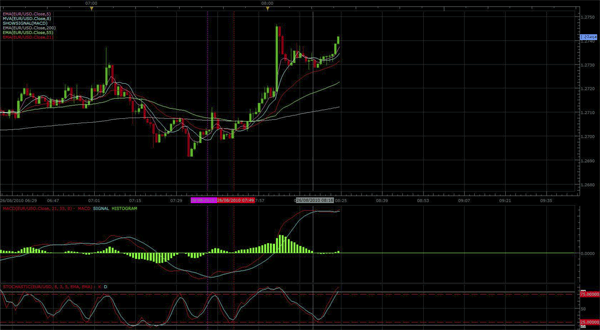 Purple = MACD/Signal Line Cross. Red = Stochastic cross / Entry. White = Exit
Edward Revy,
http://forex-strategies-revealed.com/
Copyright © Forex Strategies Revealed