#15 Swing trading with VMA's

Submitted by User on April 29, 2011 - 09:44.
Submitted by Grant Chappell
I have been using Walter's system (scalping system #6-a) for some time now, practicing, modifying updating and trading. One change I made was cut out many lines until only 4 were left, being the 1, 4, 26 and 100. On the 5M chart it took too long to update with all the VMAs being calculated.
I found that I had a few fundamental problems with his scalping system, i.e., I am not a good scalper.
· I am too slow
· Can't wait for signal
· Anticipate a turn that doesn't come
· Not taking profits and getting stopped out
· Getting too excited
· Going against the larger trend and not knowing it.
So what I did was make an EA to study alternate time frames.
Found 4H was best.
Less sensitive to timing than 5m
Less pressure/ quick-thinking needed
Less time in front of computer
Set it and go.
Time frame: 4H
Currency pair: my fave is EUR but any trending types are good, GBP, AUS, NZ, CHF
Trading setup: VMA 1, 4, 26 and 100.
I have the chimp 2.1 oscillator on the chart to look at divergences mainly. To setup the parameter on the VMA, I changed the ADX length to 8, and the the MA length is 1, 4, 26, 100. The changed ADX smooths it out a bit. Use your fave colors. Remember this is all MT4.
Downloads: chimp2_1.mq4
FantailVMA3.mq4
scalper.zip (template)
Trading rules: If the VMA 1 is above the VMA 4, go long.
Reverse for opposite. It's that simple??? I look at the 26 for a few things, one what is the mid term trend and also retracements, it sometimes hits the 26 and continues, this is an Icon according to Walter I think.
Protective stop is placed at the moment of entry and based on ATR (20). It is more or less 50 pts.
Profits: This is a trend following system so we need to let them run. Originally I just let the reverse cross cut me out, but I have found that in a smaller swing, this can lead to a loss even when you were up over 100 pts, so I have used Van Tharp's idea of trailing a stop with 3X ATR which is more or less 150pts.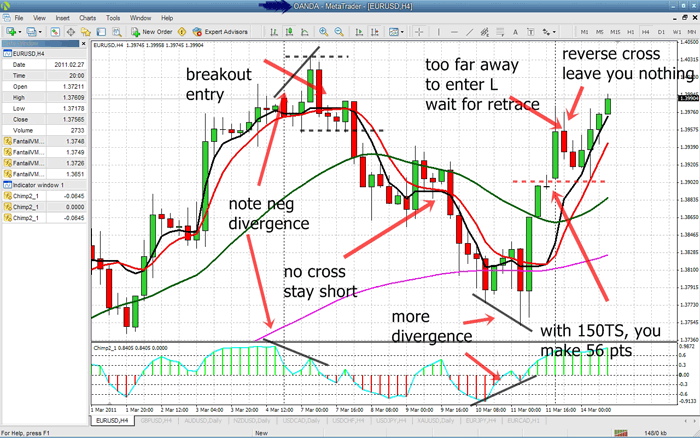 Can it be that simple? Well, maybe. The VMA is different from a regular SMA or EMA
in that they have a variable of ADX worked into them. ADX measures the strength of trend, so
basically we have a moving average that will move when prices are trending and when things are consolidating, not move, even go flat. This helps with the major problem of MA's,
that being it's whipsaw nature. The 1 and 4 can go flat with equal values with out crossing. This will keep one in a trade (no exit signals) and out of a bunch of losers (no entry signals) if the prices enter congestion.
Some notes: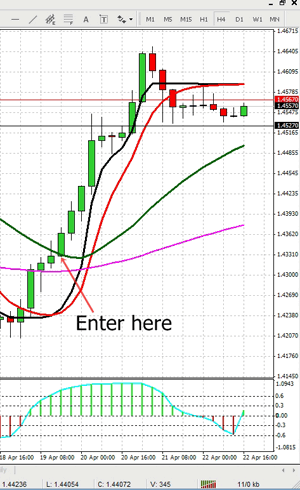 Always
trade from the line. If it has
moved away from the line, it will fill that gap 90% of the time.
This
is a trend following system, so expect some drawdown when it is not
trending strongly.
To
help me get out near the top, I use a trailing stop of 150 pts which is
roughly 3x ATR(20) of the 4H. Sometimes I find that after it goes up, it
crashes and if you wait for the reverse cross, you can lose a lot of pts.
What
happens when the cross is when you are sleeping, working, etc? You can wait for a retrace to
the Dark Green 26, or look at the highest high, subtract 150 pts from that and make
this value your stop loss. This is
equivalent to being in at the start.
Adjust your position size to reflect your larger stop, and the increased
risk in not starting out at the start of the swing.
Another
entry is the flat line breakout.
Many times the line will be flat and equal and then it will drop
(rise) like crazy and leave the lines.
Many times the price will retrace and stop you out. I set up a breakout of the highest high
and lowest low in addition to the cross and take what comes first.
If you
look at the pic, you will note that we shorted on the breakout, had 210
pts in the bank, and then had it retrace/cross up giving us 56pts if using
a150pt TS, or nothing if using reverse cross as an exit strategy. I am looking at the viability of phasing out of positions at 100pts or so. In
other words two profit targets, one at 100pts, the other a trailing stop.
Below is the screen shot of a 1yr running of an EA I built to test for system viability.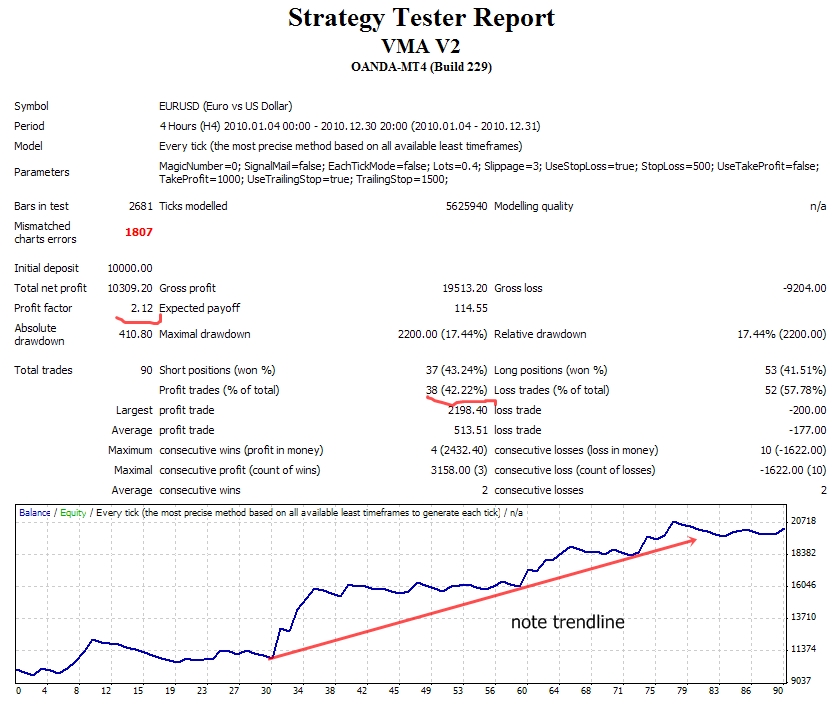 Grant Chappell


Edward Revy,
http://forex-strategies-revealed.com/
Copyright © Forex Strategies Revealed